News
Culture Round-Up: Denmark loses revered son-in-law Jean-Luc Godard
---
This article is more than 1 year old.
But hey, every cloud … Skyshowtime is coming to the Nordics!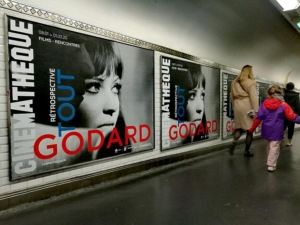 Nearly three years after her death at the age of 79, Anna Karina remains to this day one of Denmark's most acclaimed actresses, and today it has been confirmed that the director who oversaw her best work, her French husband Jean-Luc Godard, has died aged 91.
Godard, who spearheaded the French New Wave, initially astounded the world with a film that did not feature Karina: the 1960 classic À bout de souffle', which also became well known by its English title 'Breathless'.
After marrying in 1961, Godard and Karina averaged well over a film a year until their divorce five years later.
Hugely influential couple
Their filmography included many of Godard's best works, such as 'Une Femme est une Femme', 'Pierrot le Fou', 'Alphaville' and 'Bande à Part' – the inspiration for the naming of Quentin Tarantino's production company A Band Apart.
Karina relished the role of being Godard's muse, telling the Guardian in 2016 she was his Eliza Doolittle. But once divorced, they rarely spoke to one another, if at all.
Filmmaker magazine called their work together "arguably the most influential body of work in the history of cinema".
---
Eurovision heat to be hosted in the middle of nowhere … sorry Næstved
Arena Næstved in southern Zealand will host the Dansk Melodi Grand Prix next year – the heat that decides who will represent the country in the 2023 Eurovision Song Contest. Næstved mayor Carsten Rasmussen applauded the decision, telling DR it was testament to the town's pedigree: "If we have to say so ourselves, it is quite obvious, because Næstved is a city with lots of music culture." Eight songs, shortlisted by DR, will compete live on DR1 on February 11. 
Skyshowtime to launch in Nordics later in September
Yet another streaming platform, Skyshowtime, is launching in Denmark on September 20. The platform, which is available to subscribers for 69 kroner a month, will offer titles produced by Universal Pictures, Paramount Pictures, Nickelodeon, DreamWorks Animation, Paramount+, Showtime, Sky Studios and Peacock. Effectively in the Nordics, it is replacing Paramount+. Among the new series that will become available are 'American Gigolo', 'The Fear Index' and 'The Midwich Cuckoos', along with new seasons of  'Yellowstone' and 'Yellowjackets'. It also launching in the other Nordic countries ahead of a wider European release next year. 
Discovered via Instagram but not a fan
Rising Danish music star Mekdes, a 23-year-old adoptee who moved to Denmark from Ethiopia just eight month old, is an influencer with a difference: she doesn't feel the urge to post the minutiae of her life on social media. Despite being discovered after posting a cover version on Instagram aged 17, she tends to shun it, she confided to DR. Last year, she won the P3 Gold Talentprisen, and she is currently riding high with hits such as 'Give You More' and 'In Favor Of You'. Furthermore, she is one of 15 Danish musicians involved in the DR project 'Min sang til Danmark' – a bid to produce a new national song befitting of modern Denmark, which started on August 20.
Oscar shortlist includes Persian-language Cannes winner
The Danish Film Institute has released a shortlist of the three films in contention to be its official selection in the 'Best International Feature' category at the 2022 Oscars. The films are 'Holy Spider' (directed by Iranian-born filmmaker Ali Abbasi), 'Resten af livet' (Frelle Petersen) and 'Du som er i himlen' (Tea Lindeburg). The Persian-language film 'Holy Spider' is perhaps the best known thanks to its success at Cannes, where Zar Amir Ebrahimi won the Best Actress award for her performance as a journalist on the trail of a serial killer in Iran 20 years ago. 'Resten af livet' and 'Du som er i himlen' are both Danish-set dramas – the latter in the late 19th century. DFI will announce its selection on September 27. Only three Danish films have failed to make the initial Oscars shortlist, normally announced in December, since 2010. 
Luke-warm reception for Lars
The return of Lars von Trier's series 'Riget', some 25 years after its second season, has been greeted with luke-warm reviews – from international critics on Metacritic, of which the Brits were the most harsh, it has scored 66 – but it is not a disaster. 'Riget: Exodus' enjoyed its worldwide premiere at the Venice Film Festival in late August, and it is more comical than horror, according to the early consensus. DR reviewer Per Juul Carlsen felt that the creepiness of the first two season was sorely missing, but applauded the satirical elements, particularly in regard to #MeToo, and the surprises in the final episode. Among the cast are Ghita Nørby, Lars Mikkelsen, Nikolaj Lie Kaas and Nicolas Bro. The series will debut in Denmark on October 9 via Viaplay and then be shown on DR at a later date.
Danish-based Irish dramatist releases his first novel
Fergal O'Byrne, the Irish creator of That Theatre Company plays 'Extremophiles' and 'Rub-A-Dub-Dub', has released his first novel: a book of short stories called 'Careful What You Wish For'. Like his plays, the book promises dystopian elements pondering the fragile nature of our existence with hearty lashings of humanity. O'Byrne read extracts from the book at a well-attended launch on September 8 at the Irish Embassy, where a great many from the British and Irish communities turned up, including Eamonn O'Connor and Patrick Sheridan, co-owners of the Irish bar Gravens Rand in Frederiksberg, and That Theatre Company artistic director Ian Burns. Find the book via Amazon or Lulu.
That Theatre comes full circle with latest offering
That Theatre Company is celebrating its 25th year of existence by rewinding the clock to the very beginning. In 1997, 'A Night in November' kickstarted proceedings – a one-man play starring co-founder Ian Burns. In 2022, from September 28 until October 20, Burns is taking on directorial duties for 'Fly me to the Moon'. The connection … is that both plays were written by Marie Jones. Check out the promo video (below) made by actress Dawn Wall featuring herself and co-star Alexandra Jepersen. 
Luke Combs visiting Vega next year
County music star Luke Combs is visiting Denmark next year to play at Store Vega on October 4. The performance is part of his 2023 World Tour and tickets cost 250 kroner. Tickets go on sale on Friday at 09:00 via ticketmaster.dk, vega.dk or livenation.dk. For information regarding pre-sales, visit lukecombs.com. 
'Smuk kvinde' on a stage near you
In case you were wondering, the musical 'Pretty Woman', which is enjoying its Danish premiere tomorrow night at Tivoli and will continue until October 9, is being performed in Danish. Since the English-language version, based on the original 1990 films with new songs composed by Bryan Adams, premiered in 2018, it has been a favourite with fans everywhere.