News
Denmark to vote! PM calls for general election on November 1
---
With the Blue Bloc gathering momentum, will Radikale's bold move end up scuppering the chance of a Red Bloc government?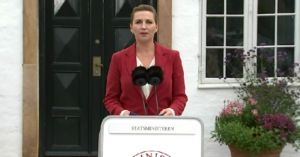 Tens of thousands of election posters will be going up in streets nationwide in the coming days.
Under threat of being toppled by Red Bloc support ally Radikale in a no-confidence vote, PM Mette Frederiksen moments ago called for an early general election on November 1.
"There is war in Europe and economic insecurity. Prices are rising on everything we need. The important task at hand now is guiding Denmark through the crisis," said Frederiksen.
"The time is here to try a new political constellation in Denmark. One that reaches across the political middle."
And the seeds sown by Radikale's early election demand could potentially completely alter the political landscape in Denmark – at least in terms of who is leading the country.
READ ALSO: No call for election yet as Parliament opens
Crows coming home to roost?
So what are the ramifications of the events that have transpired in recent weeks?
Radikale has already taken a beating in the polls for forcing Mette Frederiksen to call for an early general election.
It comes at a time when the government is navigating the country through some of the biggest crises this century – from the pandemic and War in Ukraine to the ongoing inflation and energy crises.
Another aspect to consider is that the Blue Bloc looks to have gathered significant momentum in recent months and stands considerably stronger than they did just six months ago.
READ ALSO: An election may be on the horizon, and Denmark's political parties are getting ready
Comebacks for Lars and Inger
Former PM Lars Løkke Rasmussen is back in the political limelight with his new party Moderaterne and Inger Støjberg has also returned to the fore with her new outfit Danmarksdemokraterne.
Both parties are expected to pick up a significant number of votes as they make their election debuts.
The Blue Bloc stands significantly stronger now compared to the general election of 2019. Recent polls suggest a dead heat between the two blocs.
It all means that Denmark could have a new PM in the near future – and one that will not want anything to do with working with Radikale, Socialdemokratierne and the Red Bloc.
Even if Frederiksen does stay on as PM, she has indicated that she doesn't necessarily want a government with Radikale in it.
In other words, Sofie Carsten Nielsen's early election demand may end up being a considerable self-inflicted wound to her own party … and the rest of the Red Bloc.
It's quite the stunning turn of events given the steady hand with which Mette Frederiksen has guided Denmark through the recent tumultuous years.