News
A blue night in Manchester for FC Copenhagen
---
Lions thoroughly de-clawed in demonstration of power difference between Danish football and the best team in the world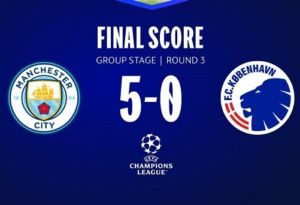 Here's some interesting numbers.
Back in 1998, Brøndby were Danish champions and lost 0-5 in Manchester at Old Trafford. David Beckham scored the first goal in the 7th minute. Manchester United would go on to win the treble.
Forward ahead to 2022 and FC Copenhagen get thumped 0-5 in Manchester. Erling Haaland scored City's first goal in the 7th minute and … well, who doesn't like coincidences in sport?
Manchester City could win the treble this year. They are that good.
READ ALSO: World Cup stars of the future? Eleven to watch out for in 2026
A pummeling in Parken?
There certainly was a difference in class between the two sides last night and 0-5 could easily have been twice that had FCK's keeper Kamil Grabara not pulled off a string of good saves.
FCK had one shot (off target) the entire game and only managed 27 percent of possession.
City didn't even play arguably the best player in the world (Kevin De Bruyne) or Phil Foden. Haaland went off at halftime.
The subs they put on were Josh Wilson-Esbrand, Rico Lewis, and Cole Palmer. Ever heard of them? City were in pedestrian mode.
Only goes to show how far the gap is from the Danish Superliga to the top of the Premier League. The only area that the Danes were better was in the stands. Outstanding support throughout despite being clobbered.
Ah well, maybe FCK can bridge that gap a bit at home in Parken Stadium next week when City visit. Probably not though.
Back in 98, Brøndby lost 2-6 to United in the home fixture. Ryan Giggs scored in the 2nd minute. It could be something similar for FCK next week.
Incidentally, City are 16/1 to win the treble and 25/1 to win the quadruple. That's never been done before.