News
Denmark handed favourable Euro 2024 qualification draw
---
Being a top seed once again paid dividends as Danes avoided all potential pitfalls to land in one of the easiest groups in the draw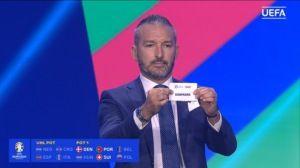 Football fans across Europe had their eyes fixed on Frankfurt on Sunday for the Euro 2024 qualification draw.
Despite being a top seed, Denmark could still have drawn a number of capable teams in the lower seedings. But the football gods were once again with the Danes in a major tournament qualification draw.
Instead of France, England and Serbia, Denmark landed Finland from the second seeds and then drew Slovenia from the third seeds when Ukraine, Romania, Norway and Sweden were possibilities.
Greece, Turkey and Bulgaria were also avoided in the fourth seed group, though fans had probably hoped for a shorter away trip than what Kazakhstan will offer.
In the fifth seedings, Denmark also avoided Slovakia – instead getting Northern Ireland and then San Marino to round out Group H. (see all groups in image below).
Denmark
Finland
Slovenia
Kazakhstan
Northern Ireland
San Marino
"Overall, it's a good draw," said Denmark coach Kasper Hjulmand.
"We always have respect for our opponents, but overall we are happy about the draw and we must qualify for the Euros in Germany in 2024."
READ ALSO: Danish fans staying away from World Cup in Qatar
An emotional reunion
Denmark kicks off its qualification campaign on March 23, when Finland visits Parken Stadium for the first time since Christian Eriksen's collapse in Denmark's Euro 2020 opener.
No doubt, it will be an emotional reunion.
A long trip to Kazakhstan then waits three days later.
Germany will host Euro 2024, with the opening game taking place in Munich on 14 June 2024 and the final in Berlin a month later.
But before all that, the 2022 World Cup awaits next month.