News
Inflation hits double figures for first time in four decades
---
On average, the price of goods has increased by almost 16 percent compared to this time last year, according to new figures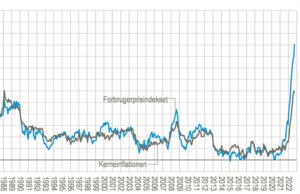 According to new figures from Danmarks Statistik, inflation has reached 10 percent for the first time since November 1982.
The development is particularly driven by the increase in the price of goods – up by 16 percent compared to this time last year.
Officially, the National Bank's inflation target is 2 percent so the prices are rising five times as quickly as what is desired. Two years ago, inflation was at a measly 0.6 percent.
READ ALSO: Denmark sees most bankruptcies in a decade
Budgets are blasted
Since then, the price of energy, food products, transportation and household goods and services have shot up rapidly in wake of the War in Ukraine.
"The price hikes are extreme and eat through household budgets with the most potent consumer prices in 40 years," Jesper Juul Borre, the chief economist at Arbejdernes Landsbank, told TV2 News.
"With this inflation, the average family with kids must fork out about 45,000 kroner more for annual consumption. And that's shockingly not because they buy more, but simply because prices have shot up."