News
Second season of DR's man-with-a-long-penis series made in consultation with young children
---
This article is more than 1 year old.
'John Dillermand' returns to our screens on Friday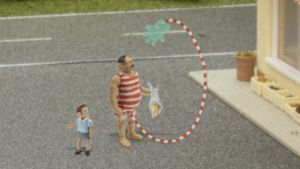 Enter October 14 in your diaries. No, Mette hasn't brought forward the general election, and it's not because it's Culture Night.
Suddenly Denmark has a different reason to anticipate the date: you've guessed it, 'John Dillermand', the man with the longest penis in the world, is returning to Danish children's television for a second season.
At five minutes per episode, length is never an issue when summoning up the required concentration.
Caused controversy, but also widely praised
The first season of stop motion animated series 'John Dillermand', when it originally aired in very early 2021, ended up being one of the most talked about TV shows of the year – overseas as well as in Denmark.
Many praised the series for addressing and normalising body issues, including comedian John Oliver (see video below). Made in association with the sex education association Sex & Samfund, the program wants to show children they should not be embarrassed for being or feeling different.
However, others feel it panders to paedophiles and is inappropriate given the recent #MeToo movement. The word 'diller' is soft slang for penis in Danish
DR swept aside such complaints in 2021. "We want to stay out of that [#MeToo]. The series is made for our target audience, consisting of children aged 4-8 and it must be at their level. The series is not about sexualising the body," said Morten Skov Hansen, the head of DR Ramasjang.
READ MORE: John's long schlong: new DR kid show under fire
Off to the Moon in Season 2
"I look forward to John Dillermand once again leading the way and showing four to eight-year-olds that being different can be a gift," enthused Hansen.
"We use the universe to mirror recognisable situations in children's lives and to generate conversations about the body, gender, rules and postponement of needs."
Talking of the universe, in season two John Dillermand gets to visit the Moon. Other episodes include one when he is having trouble going for a pee.
Made in consultation with children
The second season has been made after consultation with children from the upper half of the targeted age bracket.
"We have made drawings with John in different emotional situations and let children finish them and explain to us what is happening. In this way, they have been given open templates to fantasise about. It has given us situations that we have been able to write into the idea and script phase," revealed series co-creator Jacob Ley.
Certainly, it has won many fans. Already by mid-February 2021, just six weeks after its premiere, John Dillermand's distinctive red-and-white striped outfit had become one of the nation's favourite Fastelavan costumes. It comes with or without the hosepipe.