News
Danish companies reducing water consumption by 20 percent 
---
This article is more than 1 year old.
A partnership of Danish food and technology companies has developed new technological solutions in production to help save water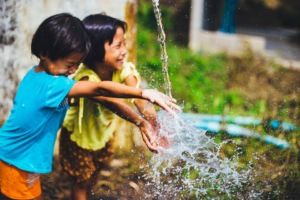 Danish food producers and technology companies have managed to reduce water consumption in production by 20 percent, which is equivalent to the annual water consumption of approximately 23,000 inhabitants, equalling the amount of people that live in Frederikshavn.
First milestone in water savings, but more to come
The so-called 'DRIP' partnership, which includes 18 Danish food and technology firms, has worked together since 2015 to develop new sustainable water and technology solutions to create more efficient production chains with less water usage.
Furthermore, there is room to save even more water, as the partnership has demonstrated the possibility of further savings of up to 32 percent.
Reduced energy consumption is an additional benefit
The DRIP partnership is run by Landbrug & Fødevarer, the Danish agriculture and food council, in collaboration with food and technology companies such as Arla Foods, Carlsberg, Siemens and Tetra Pak.
"In DRIP, impressive results have been achieved that have not only saved water, but also reduced energy consumption," enthused Flemming Nør-Pedersen, the director of agriculture and food at Landbrug & Fødevarer.
"We hope that the Danish solutions can also be used in other countries, where the challenges with water are more pronounced. In this way, the partnership has also contributed to several of the UN's global goals."
Not only value for production, but also for society
DRIP is supported by the Innovation Fund, which has invested 50 million kroner in the partnership.
"It is always very gratifying when the projects and partnerships that the Innovation Fund has invested in create concrete value for society," explained Annemarie Munk Riis, the acting head of the Innovation Fund.
"We invest in innovation that has the potential to create new solutions to society's biggest challenges and strengthen Danish society's competitiveness and sustainability."
Not every part of production needs water of drinking quality
The DRIP partnership shows that a paradigm shift in industrial water usage is indeed possible and can be managed successfully. With the help of a 'water-fit-for-purpose' concept, companies can distinguish between where it is necessary to use new water of drinking quality and where water can instead be collected from other places in production to clean it internally for reuse elsewhere in the company.
To achieve this, work under the DRIP partnership includes the usage of new technologies for water purification and the recovery of residues from water streams, combined with ongoing monitoring of water quality.
There has also been work with more well-known approaches within optimisation, where the partners have been able to benefit to a large extent from sharing experiences with each other from different branches of Danish food and technology production.
You can download and read the full report here (in English).