News
More money down the drain as redundant COVID-19 vaccines are binned, but where were the jabs when people needed them?
---
This article is more than 1 year old.
Recent vaccination numbers suggest vulnerable groups and over-65s are falling over one another to get protected – against both corona and the flu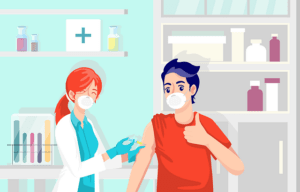 CPH POST has learned from some of its readers that contracting COVID-19 has been no cakewalk this autumn – particularly among a handful who had not previously had the virus and were last vaccinated late last year.
In their case, they went nine to ten months between their third vaccination jab and contracting the virus, even though the data strongly suggests that the effectiveness of the vaccines – both at giving the recipient immunity and reducing the chance of hospitalisation – starts to wane after four to six months. 
Nevertheless, recent data suggests that Omicron and its sub-variants have drastically changed the playing field regarding protection against COVID-19 – both among the vaccinated and recently infected. However, another recent study, conducted in Denmark, suggests the vaccines are better protecting recipients against Long COVID. 
5.8 million doses thrown away
Nevertheless, it might disturb the public how many vaccine doses in the possession of Statens Serum Institut have been rendered useless after exceeding their expiry date, although they would be wrong to assume they could have been used to protect them from the virus.
A total of 5.8 million doses, costing the government anything between 116 and 783 million kroner, will have to be binned, it has been confirmed. 
Some 3.6 million of the total are Pfizer/BioNTech jabs that can only be used for primary vaccination: the first two jabs. While the remaining 2.2 million (Moderna) would have needed to be updated to be able to withstand new virus variants. 
READ MORE: Over the top? Denmark to secure 22 million COVID-19 vaccines in 2022
Huge demand for booster
In related news, there has been huge demand for the latest booster shot, which has been available to vulnerable groups since the late summer and to the over-50s since October 1.
Already, 89 percent of nursing home residents have received the shot. Interest in flu vaccines has also been high, to the extent that over 600,000 people over the age of 65 have been vaccinated against both COVID-19 and influenza – over half of the target group.
Meanwhile, the European Medicines Agency yesterday recommended that children can be vaccinated against COVID-19 once they reach the age of six months. Both Pfizer/BioNTech and Moderna are suitable, it ruled.
READ MORE: Science Round-Up: Corona was never a major threat to children, concludes study