News
Peter Schmeichel to work for Qatari broadcaster BeIN Sports during 2022 World Cup
---
Former national goalkeeper recruited to be the broadcaster's Danish expert … a similar role to the one he fulfilled for Russia Today four years ago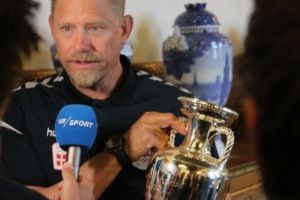 Danish national goalkeeper Kasper Schmeichel's father is once again under fire.
After being employed by Russia Today in 2018, Danish football legend Peter Schmeichel is courting controversy again, this time by getting a job as a 2022 World Cup expert for BeIN Sports, a Qatari TV channel that will broadcast the tournament to 25 countries.
Never afraid to put the boot in as a player – he once famously had a pre-arranged fight with Roy Keane – Schmeichel is equally fearless as a broadcaster.
Continuing with the controversy
Many Danes have been critical of the move. "We probably just have to face the fact that Peter Schmeichel doesn't care what the Danes think of him, or the collaborations he enters into. Apparently, legacy isn't that important to him," pundit Lasse Vøge told BT.
Recently, the kit manufacturer Hummel toned down Danish jerseys for the event in protest at Qatar's repeated human rights violations. The third kit, which is all-black, is a representation of the "colour of sadness".
Meanwhile, the Qatari authorities recently blocked the visit of several Danish journalists to the country, just over four weeks ahead of the World Cup starting on Sunday November 20.
Peter Schmeichel joined by other football legends
Mohammed Al-Bader, the managing director of BeIN's MENA Channels, is pleased with the team that BeIN Sports has put together.
"With the greatest show on earth just weeks away, BeIN SPORTS is delighted to have brought together the greatest and most diverse broadcast team ever assembled," he enthused.
The team includes Kaká, David Villa, Gary Neville, Alessandro Del Piero, Gabriel Batistuta, Marcel Desailly, Ruud Gullit and Lotthar Matthäus.