News
Olafur Eliasson contributes installation to Qatar exhibition as part of its World Cup preparations
---
Lots to reflect upon in the al-Zubarah desert, but no rainbow panoramas in sight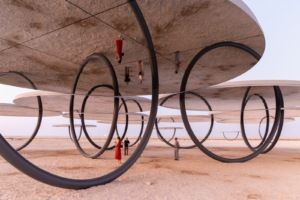 The subtext is there every time a famous person is connected with Qatar's hosting of the 2022 World Cup, which begins on November 20.
From David Beckham, to former Danish national keeper Peter Schmeichel, who earlier this week confirmed he will be working for Qatari broadcaster BeIN Sports, the condemnation can be read between the lines.
And now another Dane has been outed for his contribution to Qatar: the internationally-renowned artist Olafur Eliasson, who is currently exhibiting an outdoor art installation in the middle of the al-Zubarah desert in northern Qatar.
Rainbow man
Eliasson's contribution is part of Qatar Creates Week, a celebration of culture, fashion and art being held in connection with the desert state's hosting of the football World Cup.
A work made of metal and apparently mirrored glass, the Danish-Icelandic artist is well known for his use of elemental materials to better comprehend the human experience.
His most famous work can be found at the Aros Museum in Aarhus: the 150-metre long, three-metre wide rainbow panorama – circular glass walkway that bears all the colours of the spectrum.