News
Local Round-Up: Man shot dead in Christiania last night
---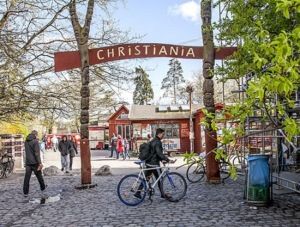 A 23-year-old man was shot dead in Christiania on Wednesday October 26 between 17:00 and 18:00.
He was apparently hit at close-range on Pusherstreet, the area of the freetown where cannabis is commonly sold in open view.
The victim is a well-known figure in the environment.
Suspect is a Somalian
The police have released a description of the suspected shooter.
Believed to be Somalian, he was wearing a windbreaker, dark jogging trousers and a dark hat.
It is believed he fled via the old main entrance, which can be found on the corner of the corner of Prinsessegade and Baadsmandsstraede.
---
Three months for threatening to kill PM
A 53-year-old man has been sentenced to three months in prison for threatening to kill PM Mette Frederiksen. It was heard in Glostrup Court how the man got drunk on September 29 last year and went on YouTube where he made the threat: "I'm going to kill the prime minister of Denmark." In his defence, he said it was "for fun". The man had prior convictions, including a 50-day sentence in March 2021 for more or less saying the same thing.
Children present proposal for city harbour school
On Tuesday, 22 school children from the 7th to the 9th grades from schools in Husum, Christianshavn and Amager met with the Copenhagen mayor for children and youth, Jakob Næsager, and Anne Skovbro, the CEO of By & Havn, to present their vision of how a future harbour school could be established in Copenhagen where children can learn about safe behaviour and good manners in the maritime environment, as well as biodiversity and sustainability.
Up to 5,000 illegally-placed election posters in capital
The general election is just around the corner and the capital is littered with election posters – of which many are illegal. According to Jakob Hjuler Tamsmark, the head of the capital's Technical and Environmental Department, the municipality has already received 4,000 to 5,000 complaints about illegally-placed election posters.
Famous pølsevogn up for sale
Harry's Place is one of the most famous hotdog stalls in Denmark. Since 1965, the pølsevogn has been permanently based on ground level at a blocks of flats on Nordre Fasanvej just around the corner from Nørrebro Station. But now the establishment is up for sale for 1,850,000 kroner, with a monthly rent of 12,250. 
Mysterious explosion in Gladsaxe
A large part of Gladsaxe was cordoned off at the beginning of last week after the western district was rocked by an explosion on Vandtårnsvej, Gladsaxe. Police are still investigating the cause of the explosion, which is not thought to have harmed anyone.
Metro celebrates 20th birthday
The Copenhagen Metro has celebrated its 20th birthday. When it first opened in 2002, it ran from the Amager stations of Lergravsparken and Vestamager to Nørreport. Today, they constitute around half of M1 and M2, which were extended over the years that followed: in the directions of Copenhagen Airport and Vanløse. Two more lines, M3 and M4, have since been added. The former, the City Ring, opened in September 2019, while the M4, which extends to Nordhavn and will soon reach Sydhavn, followed in March 2020.
Mother and child found dead in forest
A 30-year-old woman and 11-month-old child have been found dead in Næbskoven, a forest near Præstø in southern Zealand. The police began a search for them after they found a man dead in a house on Svanevej in Præstø.
Controlled explosion in Vordingborg
The Defence Bomb Disposal Service recently carried out a controlled explosion of old chemicals near Vordingborg Gymnasium in southern Zealand. The emergency services were involved in the operation.