News
Sport Round-Up: Brøndby bought by US company
---
Elsewhere, Pernille Blume is retiring and FC Copenhagen has been sent packing out of Europe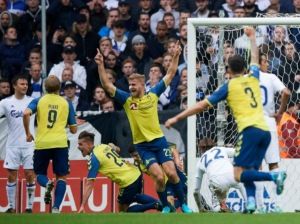 Today has been an historic day for Danish football!
Brøndby IF's chairman, Jan Bech Andersen, has today sold the majority shareholding of the club to American company Global Football Holdings.
Joins a pan-European stable
About 30 million euros will be injected into the club.
The new owner has already acquired several European football clubs, including Estoril Praia in Portugal and SK Beveren in Belgium. It is also a co-owner of FC Augsburg in Germany.
---
FC Copenhagen's European dream is over
Champions League is ruthless. In a really difficult group, included Manchester City and Borussia Dortmund, FC Copenhagen lost its fifth group game against Sevilla FC 3-0 on Tuesday evening at Estadio Ramón Sánchez Pizjuán. Despite two points in five games, this result means that FCK is sure to finish fourth of the group. The starting 11 included six teenagers, which set a new record for the Champions League. So far, after five games FCK have failed to score a single goal in qualification. They face Borussia Dortmund in their final game next Wednesday at Parken.
FC Midtjylland and Silkeborg IF prospects take a battering
This week was not a good one for Danish teams. FC Midtjylland didn't manage to repeat their outstanding 5-1 win against Lazio in September, losing 1-2 in Rome. The result leaves them last in Group F, but they still have a chance to qualify, should they beat Sturm Graz by any scoreline other than 1-0. Silkeborg, meanwhile, remain second in Group B of the Europa Conference League despite a 0-1 loss to West Ham United, and must not lose at home to Anderlecht next week to advance.
Olympic swimming champion Pernille Blume is retiring
Danish star Pernille Blume has decided to retire. The 28-year-old-swimmer announced it via Instagram on Thursday, saying: "It's hard to say goodbye to something I love." She won Olympic gold in the 50 metres freestyle in 2016 as well as two Olympic bronze medals.
Is Jonas Vingegaard the favourite for the upcoming Tour de France?
Defending champion Jonas Vingegaard will struggle in next year's Tour de France, according to a Danish expert, because the route won't suit his strengths. BT's reporter Rasmus Rask Vendelbjerg predicts Slovenia's Tadej Pogacar will probably finish ahead of him. "I no longer see Jonas Vingegaard as the favourite to win the Tour de France 2023," he said. "It's a creepy mountainous route, but it's missing the excruciatingly gruelling marathon stages that would give him an advantage against Tadej Pogacar. The route is simply not hard enough," he said.
First Dane in the history to make NFL start
Hjalte Froholdt will remember this moment forever. The Cleveland Browns guard made his NFL debut on Sunday, becoming the first Dane to start a game since kicking legend Morten Andersen. "It's something I've been waiting for such a long time, I'm incredibly proud of it," he told TV2.
Danish song for 2022 World Cup has been released
Denmark has revealed its song for the 2022 World Cup in Qatar. The song, 'Skulder Ved Skulder' (shoulder to shoulder), calls for national unity and full support from the fans during the event. National goalkeeper Kasper Schmeichel is the 'star' as he sings a solo. The song was prepared by Burhan G, Ankerstjerne, Nicolai Seebach and Jarl Friis-Mikkelsen. Denmark face Tunisia in their first game on November 22. Most Danes appear to agree online that the song is a hit.