News
Denmark's muted black shirt one of the bestselling football jerseys in the world
---
The national team's third-choice strip is only being outsold by the more traditional colours on home soil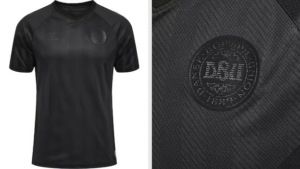 The black shirt is a hit – and not only in Denmark. The controversial national team strip has generated a lot of reaction all over the world.
In September, the kit manufacturer Hummel toned down Danish jerseys for the 2022 World Cup in protest at Qatar's repeated human rights violations. One of three muted shirts is all-black: a representation of the "colour of sadness".
And now, less than ten days before the tournament starts, it has emerged that it is one of the bestselling shirts in the world.
"We don't usually see such hype for a shirt. The normal thing is that one in ten national team shirts are sold outside the national market, but in this case it is one in three shirts, which we have never experienced before," Michael Burk, the CEO of Unisport, told TV2.
Number one in Germany and Austria
The popularity rating of the Danish black shirt is growing every day, thanks to Hummel's and the DBU football association's stance.
In Germany and Austria, the kit is the most sold among all the national shirts for the World Cup. It's number two in France and also popular in the Netherlands.
Only in Denmark, is it being outsold by the first choice shirt: the muted red.
This week, FIFA informed the DBU football association that the Danish national team will be unable to wear shirts bearing the words "Human Rights for All", as political messages are banned, both on training and matchday gear, at FIFA-endorsed games.