Things to do
Mid-November Events: An offer you can't refuse from the Crazy Christmas Cabaret
---
This article is more than 1 year old.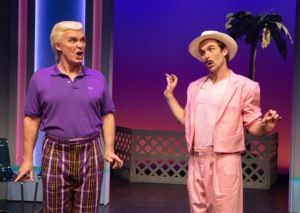 Crazy Christmas Cabaret: 'Don Calzone'
Nov 11-Jan 14; Glassalen at Tivoli; from 360kr, teaterbilletter.dk; 135 min
This Crazy Christmas Edition will take us away from the dreary Danish winter to sunny 1980s Miami Beach, where the Calzone Family are in crisis again! Most of the team are returning from last year, so expect show creator and London Toast co-founder Vivienne McKee (see page 10 for her column), David Bateson, Katrine Falkenberg, Kevin Kiernan-Molloy and Andrew Jeffers as The Dame. Check out cphpost.dk for our review of last year's show, which also revolved around the antics of the Calzone Family!
Vodka Talks
Nov 11-12, 19:00, Nov 13, 15:00; Bastionen, Norra Vallgatan 28, Malmö; 250kr, kulturcentralen.nu; hit-theatre.com
A contemporary, political tragicomedy, this is bestselling Danish cult author Arne Nielsen's debut as a playwright. Staged by HIT, and starting the theatre group's most trusted pairing Jana Pulkrabek and Vanessa Poole, 'Vodka Talks' tackles the unsettling political waves of power and change spreading through Europe in 2022 with humour, drama and suspense. A play about love and family and what it means to survive the past.
Science & Cocktails
Nov 15, 20:00; Koncertsalen, DR Koncerthuset, Ørestads Boulevard 13, Cph S; 145-195kr, drkoncerthuset.dk
This month's English-language lecture is on the subject of 'Mapping the brain synapse by synapse to explore the mind'. Neuroscientist Jeff Lichtman will take us on a tour through the brain, the min, and every single connection that your neurons make. Can we have a complete map of the brain and all of its connections? And what would it tell us about our own minds? Lichtman has the answers.
Connections
ongoing, ends Feb 19; Sølvgade 48-50, Cph K; 120kr
The year 2022 marks exactly 30 years since Denmark received 20,000 refugees from the former Yugoslavia. Many of these refugees chose to stay in Denmark and became artists, and seven of them present personal artwork inspired by the Yugoslav Wars, migration and asylum policies.
Milky Chance
Nov 20, 20:00; Amager Bio, Øresundsvej 6, Cph S; from 275kr, eventworld.co
Milky Chance are a German folk/rock band known for their mega hit 'Stolen Dance', which travelled the world back in 2013. Now they are coming to Copenhagen to present their latest releases.
Central Cee
Nov 14, 19:00; Vega, Enghavevej 40, Cph V; 280kr, eventworld.co
British rapper and songwriter Central Cee achieved success in 2020 with the release of the singles 'Day in the Life' and 'Loading'. Recently named  by NME magazine as the new face of drill music, he will present his second full-length mixtape '23'.
Christmas at Tivoli
Nov 19-Dec 31; Tivoli, Vesterbrogade 3, Cph V; standard entry: 145kr; tivoli.dk
The 28th Christmas season at Tivoli begins on November 19 with Santa Claus welcoming the first guests in his new house built on the square overlooking the Christmas village. The candles on the Christmas tree will be lit at the Great Fountain, accompanied by celebrities, while the Tivoli Gardens Brass Band and the Storybook Theatre elves will also entertain.
Proper British Afternoon Tea
Nov 20; Kogebogeriet, Guldbergsgade 10, Cph N
If you're looking for an authentic British afternoon tea, then Kogebogeriet is the place to go. Enjoy a menu that includes roast beef with Yorkshire pudding, freshly-baked scones and clotted cream, along with unlimited tea.
De kosmiske dansere
ongoing, 16:00; Ofelia Plads, Cph K
Five large sculptures by Danish artist Lin Utzon, each 3.5 metres in length, have been unveiled at Ofelia Plads. The statues will be illuminated each night until the end of March.
Opera Tours in English
Nov 13 & 20 at 12:00, Nov 19 at 13:00; Ekvipagemestervej 10, Cph K; 135kr, under-12s 60kr, kglteater.dk
Discover the Opera's beautiful foyer with its clean lines, Olafur Eliasson's light sculptures, and views over Copenhagen Harbour that embrace the shiny maple shell around the Main Stage.
Big Quiz Night
Nov 17, 19:15; Globe, Nørregade 43, Cph K; 50kr, five per team
The winners get 1,200 kroner. And who knows, the odd rollover has been known to go too. Back-to-back quizzes following the cancellation of the September 22 edition.
60Seconds
Nov 11-20; Metro stations
The short film festival 60Seconds is galloping into Copenhagen again to take over its Metro stations. Thanks to the opening of the M3 and M4 lines in late 2019 and early 2020, and not thanks to the pandemic, this will be the first festival to take full advantage of the hugely expanded network. The films adhere to the 'no words, no sound' concept. This year's theme is 'Life Perfect'.  
Layers
Nov 19, 20, 26 & 27, 15:00; Den Hirschsprungske Samling, Stockholmsgade 20, Cph Ø; 150kr, hirschsprung.dk
A wave of contemporary artists will occupy the museum halls for a few days, using sound installations, performances, dance and storytelling to create a hybrid work involving the site-specific artwork by  Ejnar Nielsen. Visitors can choose between Danish or English.
Digital Matters
ends Feb 19; Kunsthalle Charlottenborg, Kongens Nytorv 1, Cph K; 90kr; kunsthalcharlottenborg.dk
Honey Biba Beckerlee examines connections between spheres of geology, technology and biology using wire coils, microchip scrap, cables and server racks to create sculptures that resemble ceramic mosaics.
Oliver Tree
Nov 19, 19:00; Vega, Enghavevej 40, Cph V; 285kr, eventworld.co
US hip-hop artist Oliver Tree is currently topping the music charts with his single 'Miss You' after going viral on Tik Tok. His music will make you want to dance.
Tove Lo
Nov 18, 20:00; Vega, Enghavevej 40,Cph V; 380kr, eventworld.co
Swedish dance pop and synth star Tove Lo will perform her latest album 'Dirt Femme', which many are hailing as her most accomplished album to date – not least due to the hit single '2 die 4'.
The Handmaid's Opera
Nov 12-13, 20:00; Opera House, Ekvipagemestervej 10, Cph K; 160-870kr, kglteater.dk; 170 min
Based on Margaret Atwood's dystopian tale, The Handmaid's Opera certainly packs a punch!
A Midsummer Night's Dream
Nov 11-23, 20:00; Opera House, Ekvipagemestervej 10, Cph K; 110-770kr, kglteater.dk; 155 min
Performed to choreography arranged by John Neumeier, expect a performance that is both magical and poetic.
Infinite Deep
ends Jan 16; Nikolaj Kunsthal, Nikolaj Plads 10, Cph K; 40kr
Curator Christian Nørgaard had exclusive access to David Lynch's photo archives to make this exhibition. It's tailor-made to fit in with the gothic style of Nikolaj Kunsthals Øvre Galleri og Tårn. The church tower dates back to the 16th century.
RDAM'S annual concert
Nov 25, 19:00; Konservatoriets Koncertsal, Julius Thomsens Gade 1, Frederiksberg; 110kr, dkdm.dk
This annual performance will be conducted by Gabriella Teychenné.
Maggie Rogers
Nov 25, 20:00; Tap 1, Raffinaderivej 10, Cph S; from 440 kr, eventworld.co
Young singer-songwriter and producer Maggie Rogers has since her early days in the music industry won widespread praise. Pharrell Williams became a fan after listening to her first single 'Alaska'. She will present her second album 'Surrender', a fusion of alternative pop and rock that has received acclaim in the music industry.
Kendzsi Tanaka
Nov 30, 19:30; Konservatoriets Koncertsal, Julius Thomsens Gade 1, Frederiksberg; free adm; dkdm.dk
Kendzsi Tanaka's repertoire of classical piano pieces mixed with electronic music gives this performance an eclectic touch. The concert will include a suite by Ravel and Bartok's piano quintet, among other works.
Wolf Alice
Nov 12, 20:00; Vega, Enghavevej 40, Cph V; 280kr, eventworld.co
The British alternative rock band Wolf Alice present their latest album 'Blue Weekend' – their best-selling musical work to date.
Rag'n'Bone Man
Nov 16, 20:00; Den Grå Hal, Refshalevej 2, Cph K; 490kr, eventworld.co
Rag'n'Bone Man returns to Copenhagen to present more new music. Obviously he can't stay away … he's only human.
Ka-Ching! – Show me the money
ongoing; National Museum, Ny Vestergade 10, Cph K
Learn about the history of money and gain some insights into the world of finance. And take a money bath!
Gravens Rand Quiz
Nov 9; Søndre Fasanvej 24, Frederiksberg; entry 30kr
Maximum of four per team, it's 1,000 kroner for the winners and a crate of beer for second. Two beer rounds, and shots for last place!