News
Sport Round-Up: Royal Family won't be travelling to Qatar for the 2022 World Cup
---
Elsewhere, Niels Frederiksen is no longer Brøndby IF's head coach, FC Nordsjælland secured Superliga lead for winter break and historic pole position for Kevin Magnussen in Formula 1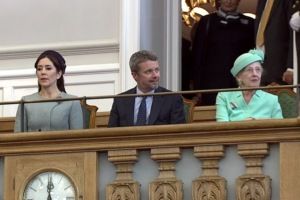 There won't be any member of the Danish Royal Family in Qatar for the 2022 World Cup. The Royal Danish House has decided to follow the acting government's line.
It means that Denmark will not be officially represented during the competition.
The Royal Family was completely free to make its own choice, but wanted to stay in Denmark for this political matter.
Other priorities
The situation is complicated in the country. After the 2022 General Election, everyone is working hard at trying to form a new government.
As Crown Prince Frederik assured: "My support will always be with the national team, no matter where it is. It's the sport that has my attention."
But this time around, the Royal Danish House will support the team in the same fashion as most Danes: at home in front of the TV screen.
---
Jesper Fredberg leaves Viborg FF to join Anderlecht
Jesper Fredberg is stepping down as Viborg FF's sports director. At the turn of 2023, he will become director of football at the Belgian club Anderlecht, which is currently 11th in their national championship. Fredberg joined the Danish club in 2019 and played a big role in Viborg's rise to the top flight. The team is currently second in the Superliga and dreaming of European competition next season.
FC Nordsjælland leading the Superliga heading into winter break
FC Nordsjælland, the Tigers from Farum, are leading the Superliga heading into the winter break after only two losses and five draws in 17 games since July. Second are another surprise package, Viborg FF, with FC Copenhagen third, eight points behind FCN. Only six points separate third from tenth. The Superliga will resume on the third weekend of February.
Brøndby IF looking for a new head coach
Niels Frederiksen is no longer Brøndby IF's head coach. The decision was announced on Monday. The 52-year-old coach joined the club in 2019 and two years later he guided Brøndby to their first Superliga title in 16 years. The new American owners from Global Football Holdings are looking for a new head coach following a disappointing start to the season, which sees them in 10th place after 17 games.
FCK-AaB the best attended game of 2022 so far
With Manchester City, Borussia Dortmund and Sevilla FC all making visits, one might expect that Parken's record attendance this year was set by a Champions League game. But in fact, their Superliga game with AaB was the best attended game of the season so far, when 35,463 fans turned up for the match on May 22. So far in 2022, the 17 best-attended matches are FCK home games at Parken. In 18th place is yet another Parken game: the Danish Cup Final between OB and FC Midtjylland, which drew 23,328 fans.
Danes must win or draw against Norway to advance to the semi-finals
After Norway's 26-23 win against Slovenia on Monday, the Danish women's handball team still have a strong chance of making it through to the semi-finals of the 2022 European Championship in Slovenia. If the Danes win or draw against Norway on Wednesday, they will probably face France in the final four. But if they lose, they will need help from Hungary, as Slovenia need to beat them to advance. Sweden could also qualify if results go their way. Should all three teams end up equal, Sweden will go through with a superior goal difference.
Historic pole position for Kevin Magnussen in Formula 1
Last Friday is a day that Kevin Magnussen is never going to forget. The Haas F1 driver secured the first pole position of his career and the first ever for a Dane in Formula 1. Thanks to rain and George Russell's crash in the third qualifying session, K-Mag could celebrate his first pole with his team for the sprint race on Saturday – a new initiative this season that includes four sprint races at selected GPs, which awards a smaller number of points to the top eight (1-8 compared to 1-25) – in which he finished eighth. He then crashed out of Sunday's GP after a crash with Daniel Ricciardo on the first lap.
Mark O Madsen no longer undefeated
Danish MMA fighter Mark O Madsen is no longer undefeated after losing to American scrapper Grant Dawson. He lost by submission in the third round following a rear naked choke. The former wrestler – who won silver at the 2016 Olympics – had previously won 12 consecutive fights.