News
World Cup Round-Up: Denmark issues well-timed threat to pull out of FIFA ahead of European Parliament's heavy condemnation of world body
---
In other news, midfielder Thomas Delaney will miss the rest of the tournament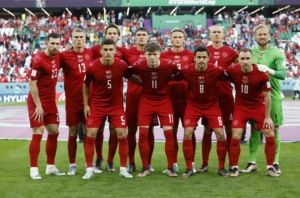 The DBU football federation shocked a lot of people around the world on Wednesday with a statement announcing that it is considering pulling out of FIFA.
"It is not a decision that has been made now. We have been clear about this for a long time. We have been discussing it in the Nordic region since August," said DBU chair Jesper Moller.
Timely announcement
The announcement was timely, as one day later the European Parliament criticised FIFA for allowing the World Cup to take place in Qatar, given the oil-rich state's terrible human rights record.
The EU has called upon a compensation fund for the families of the estimated 6.500 migrants workers who have lost their lives during preparations for the tournament. Many of the deaths are simply unexplained.
Threatened of sanctions by FIFA
The Danish football team, among a number of other squads, had to drop plans to wear the One Love armband. As a violation of FIFA's rules, captain Simon Kjær risked getting a suspension and not being able to take part in the game against France on Saturday.
The DBU will oppose Gianni Infantino's presidential re-election at FIFA. According to the DBU, there were only four federations out of 211 to not sign his declaration of support.
LGBTQ+ fans criticise DBU
The LGBTQ+ community in Denmark has condemned the DBU football federation after caving in to FIFA and deciding not to display the armband, as they expected more from them.
However, some of them saluted the DBU's subsequent statement against FIFA and its president Gianni Infantino.
---
Danish fan denied entry to Qatari stadium because of his socks
Before the game between USA and Wales, Christoffer Pederstrup, a Danish football fan, was denied access because he was wearing rainbow socks. The security guard didn't allow him to enter the stadium when he saw the socks. An American journalist was also denied access before the game because he had a rainbow shirt on. However, former Danish PM Helle Thorning-Schmidt had no problem at Denmark's game against Tunisia where she wore a blue dress with rainbow-coloured sleeves. No sanction has been pronounced yet by the football institutions.
Thomas Delaney giving up the World Cup
Danish 31-year-old midfielder Thomas Delaney won't be playing any further part in the tournament after picking up an injury in the opening game against Tunisia. He will return to Denmark. "We will miss Delaney both on and off the pitch. Other players are ready and we have a strong squad for the next games," noted the DBU.
Low audience for Denmark-Tunisia
Less than a million Danes watched the national side's opening game of the 2022 World Cup on Tuesday. An early kickoff at 14:00 CET meant that many were still at work, their studies or carrying out family chores. An audience of 983,000 tuned in compared to the 1.5 million who watched the opening Euro 2020 game against Finland last year.
Family tragedy forces Nadia Nadim to cut short ITV appearance
Viewers in Britain of the Denmark vs Tunisia game on Tuesday might have been surprised to see Danish international Nadia Nadim among the pundits. But tragically she had to cut short her appearance after finding out that her 57-year-old mother had been killed in a traffic accident. Together with her mother and siblings, Nadim emigrated from Afghanistan to Denmark as a child after her father was killed by the Taliban. "She was a warrior who had fought for every inch of her life. She didn't give me life once but twice, and everything I/we are is because of her," said Nadim in a statement on Wednesday.