News
Culture Round-Up: As one elf gets championed for probable catfishing, another gets cancelled for alleged blackfacing
---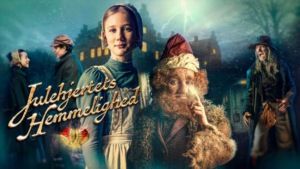 The julekalender show this year, 'Julehjertets Hemmelighed' on DR, is a magical tale set in the 19th century.
Partly filmed at Frilandsmuseet, the open air museum well known for its historic buildings, it will be screened nightly from December 1-24 at 19:30.
That's a good fit for Dad, as it shouldn't clash with any World Cup football, even if some of the games go to extra time.
Will Rumle get rumbled?
One of the main characters is Rumle, an adult nisse who lives in a hayloft who knows he and his bestie, a 12-year-old girl, will have to part ways forever when she becomes a teenager. Or at least that's just his story …
But will the construction of their magical Christmas heart mean they can stay together forever? Who knows, but it's bound to sell more of the country's favourite Xmas decorations.
And the story won't end on Christmas Eve, as a sequel, 'The Secret of the Troll's Heart', will be screened next Easter.
Cancelling this particular nisse
Meanwhile, TV2 has decided not to show its classic julekalender 'Alletiders Juleman' this year because it contains scenes which "may be offensive to some".
It will be replaced by another julekalender starring its central character, the enduring nisse Pyrus.
Nevertheless, Pyrus universe creator Martin Miehe-Renard is not happy. "I think we're all being a little too sensitive," he said.
Given that there were only two complaints last time it was screened, it does sound excessive.
Blackfacing and jokes about the Chinese
One viewer alleged there was 'blackfacing' in a scene in which three children dressed up as cream buns and had their faces painted dark.
"They are three small white children playing cream balls," said Miehe-Renard." You have to be quite rigid to allow yourself to be offended by it."
And he was equally dismissive when another viewer complained about the show's depiction of 'Den Store Bastian', one of the short stories in Heinrich Hoffmann's 19th century German masterwork 'Der Struwwelpeter' – err, 'The Story of the Inky Boys' in the English-language version.
However, media have also pointed out that Pyrus's jokes about Chinese people are a little risque for modern audiences.
---
Huge coup! Danish theatre acquires the rights to stage Pink Floyd's 'The Wall'
Østre Gasværk Theater will in September 2023 stage an adaptation of the classic Pink Floyd album 'The Wall' – for the first time in history, claims its press release, as a piece of musical theatre. Specifically, the Østerbro theatre has acquired the exclusive rights to stage 'Another Brick in The Wall, Part V' – parts I-III feature on the original album, while Part IV was performed as an opera in Montreal in 2017 – but it sounds like they will present all five parts. Pink Floyd were more or less the pioneers of progressive rock, so the sketchy details of the press release are in line with their general 'bag'. The lead role will be filled by Magtens Korridorer frontman Johan Olsen. After a run in Copenhagen, the performance will head over to Musikhuset in Aarhus, where it will be performed from 5 January 2024.
Who wants to watch an entire weekend of Metallica?
It has been confirmed today that Metallica will play at Parken on June 14 and 16, but there's a catch! The concerts will not be the same: with different setlists and special guests each night. On June 14, Architects and Mammoth WVH will guest, and two days later it will be Five Finger Death Punch and Ice Nine Kills. Metallica are accordingly selling two-day and one-day tickets. The two-day tickets go on sale at 09:00 on December 2 via ticketmaster.dk. If there are any remaining, the one-day options will go on sale from January 20.
Early 20th century Danish princess's sapphire tiara up for grabs
Bruun Rasmussen's auction house on Bredgade is the place to be on December 1 if you want to whisk off with the crown jewels. Going under the hammer is a sapphire tiara previously owned by Princess Thyra of Denmark – a daughter of King Frederik VIII and younger sister of Christian X, who died a spinster in 1945 after she was persuaded to break it off with the king's doctor (another Struensee!). It is expected to fetch up to 800,000 kroner. Also up for grabs are Queen Alexandrine of Denmark's art deco emerald and diamond bracelet and Queen Louise of Denmark's mourning medallions.
Matador actor dies before his time
Jens Arentzen, who played young Ulrik Varnæs in 'Matador', has died at the age of 64 of cancer. Following a reasonably successful acting career in the 1980s and 90s, he ventured into directing and screenwriting. One of his films, 'Lille John', was notable for giving Lars Mikkelsen his first lead role and Trine Dyrholm one of her earliest appearances on screen.
Signing off for the year with the Honey Monster
The final International Comedians show of the year is at the Knock Knock Comedy Club on December 8. Headliner Ben Kersley, a British comic and Edinburgh Fringe regular, is perhaps best known in his home country for playing the Honey Monster in TV commercials for Sugar Puffs. Offering strong support are Tobias Erehed (Sweden), Kaspar Tingleff (Denmark) & Nicolas Goertz (Denmark), with Adrian Mackinder on duty as the night's MC. Buy tickets here.
Fyr og Flamme can feel hard done by, surely
The news that the European Broadcasting Union will not be using national juries to help determine the finalists of the 2023 Eurovision Song Contest, in response to evidence six counties cheated this year, will grate slightly with 2021 entrants Fyr og Flamme. A really low score from the juries ruined the duo's chances of progressing, despite scoring pretty favourably with the public. Georgia, Montenegro, Poland, Romania, San Marino and Azerbaijan deny deliberately voting for one another in the 2022 semi-finals, but the EBU was not convinced, directly accusing them of conspiring and stepping in to change their points tallies.
Among the best Xmas market destinations in Europe
Copenhagen is the fourth most popular destination for Christmas markets in Europe, according to a study of TikTok hashtags carried out by DiscoverCars.com. It was only beaten by Edinburgh, Strasbourg and Esslingen in Germany. In total, its markets acquired 305,800 views on the platform via #CopenhagenChristmas. Completing the top ten were Berlin, Prague, Bruges, Budapest, Brussels and Vienna. In total, Germany had four entries in the top 15. Meanwhile, in related news, the Christmas Market at Tivoli Gardens has been hailed at the 17th best in the world by Big Seven Travel. "Think thousands of twinkling lights, steaming pots of mulled wine and cheese-laden hot potatoes: the ultimate lesson in hygge," it purred.
Christmas showstoppers to put you in the festive mood
CPH Musical Theater Co are serving up three concerts of Christmas showstoppers to put you in the festive mood. Again in collaboration with Nepalese vegan specialists Lamfuz Madklub, they'll be singing for your suppers – strictly "non-cheesy holiday music" from musicals, movies and the charts – at Krudttønden on December 8, before heading off to give two shows at LiteraturHaus in Nørrebro on December 17. If you like 'Grease' you're in for a treat, as one of the singers is called Olivia Yoon Joo Jang. Tickets cost just 95 kroner. For more details, visit cphmusicals.com.
Now Xmas can begin: Santa's lit the tree … with a welding torch
Rådhuspladsen, Copenhagen's Town Hall Square, was the place to be yesterday at 16:00 for the illumination of the 21-metre Christmas tree's 700 LED lights. As is tradition on the first Sunday of Advent, a Santa Claus armed with some kind of welding torch is lifted by a huge crane while somebody flicks a switch. With the Lord Mayor, Sophie Hæstorp Andersen, watching on, Christmas can officially begin in the capital, but due to the energy crisis, the tree will be lit for fewer hours than usual this year: from 16:00-22:30 every evening (Fri & Sat until 23:30) and 06:00-09:00 each morning.