News
Sport Round-Up: Everything still up for grabs for Denmark at the 2022 World Cup
---
In related news, seven of the Danish players could have played for other nations through their ancestry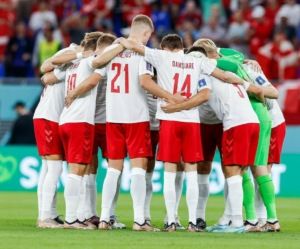 Despite suffering a 1-2 loss to France on Saturday, the Danes still have a decent chance of booking a ticket to the last-16. '
Having only picked up one point in the first two games, the team must beat Australia tomorrow and hope Tunisia doesn't win against France.
"The task ahead is clear: we have to win the last game," national coach Kasper Hjulmand confirmed.
A possible, if unlikely, scenario
Denmark will also hope that Tunisia doesn't beat already-qualified France. If they do spring an upset, things could get complicated in a hurry.
READ ALSO: 2022 World Cup: Big screens and best bars
If, for example, Denmark beats Australia 1-0 and Tunisia wins 2-1, the Danes and Tunisians will end up on the same number of points, goal difference and number of goals scored and conceded.
Because Denmark and Tunisia drew 0-0 in the opening game, fairplay points will be the decider.
Both sit on four yellow cards at the moment, so it will come down to the number of cards they receive in the final round of games.
---
Parties call for official World Cup boycott
Half of the political parties in Denmark, from both the red and blue blocs, have called for an official political representation boycott of the 2022 World Cup, according to DR. The news comes as the country remains focused on forming a new government following the 2022 General Election. The Royal Family, meanwhile, announced early on that it would not send any representatives to Qatar.
Plenty of dual-citizenship players in Qatar
Seven of the Danish players taking part in the 2022 World Cup could actually have represented other national teams in Qatar, had they made other decisions earlier in their careers in relation to which countries they wanted to represent. Kasper Schmeichel could have played for Poland (through his grandfather), Alexander Bah for Gambia (father), Pierre-Emile Højbjerg for France (mother), Thomas Delaney for the USA (father), Yussuf Poulsen for Tanzania (father) and Martin Braithwaite for Guyana (father), while Robert Skov could have opted for Spain, as he was born there – not sure he would have been selected though.
Pernille Harder out for long spell
Denmark and Chelsea striker Pernille Harder is expected to be on the sidelines for a significant period of time after suffering a thigh injury, according to her club. The injury was serious enough that doctors and specialists attached to Chelsea decided that an operation on her hamstring was necessary.
Bad boys of tennis to hit Copenhagen
On May 24, two tennis stars with 'colourful reputations', Denmark's Holger Rune and Australia's Nick Kyrgios, will play an exhibition game at Copenhagen Royal Arena. Following a stellar season in which he reached the top 10 for the first time in his career, Rune said that he "couldn't wait to thank all the Danish tennis fans who have been cheering me on all year". It is the first time that the two will face one another and tickets are already available via Ticketmaster.
Big names vying for award
There are some big names in Danish sport in the running for the 'Årets Sportsnavn' award in Denmark this year. Of the 15 nominees for the sports personality award, the favourites are tennis star Holger Rune, Tour de France winner Jonas Vingegaard and badminton's world number one in men's singles, Viktor Axelsen. The winner will be announced in January by the Danish Sports Federation.
Danish women are European curling champions
Denmark has won its first curling title in 28 years following an 8-4 win over Switzerland in the final of the Women's European Championship final in Östersund on Saturday. Madeleine Dupont, Denise Dupont, Mathilde Halse, My Larsen and reserve Jasmin Lander led the team to their surprise title – they didn't expect to win the competition or do so by beating the world's top-ranked team in the final.
Iron Dane wins in Mexico
Magnus Ditlev has qualified for the World Ironman Championships in Hawaii in October next year. Qualification came courtesy of victory in a race in Mexico on Sunday. Following 180km of cycling, 42.2km of running and 3.8km of swimming in significant heat and humidity, the 52-year-old Dane finished the race in 7 hours, 50 minutes and 41 seconds.