News
Blur to perform at Roskilde as part of their 35th anniversary celebration
---
This article is more than 1 year old.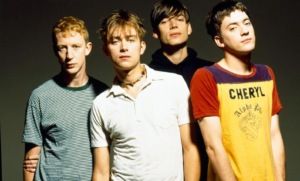 They'll like Roskilde because it's in the countrrrry!
And don't forget "all the people – so many people – and they all go hand-in-hand, hand-in-hand through their parklife".
Plenty of girls and boys too, even though most of them are now pushing 55 – drummer Dave Rowntree is 58!
If you hadn't guessed it, legendary Britpop band Blur are returning to Roskilde next year to play a rare gig, as they have not performed together since 2015.
It is all part of their 35th anniversary year, for which they are reuniting to perform a gig at Wembley in London on July 8 and also appearing at the Primavera festival in Barcelona in early June.
20 years since they last played Roskilde
For frontman Damon Albarn, it's not exactly been a long time, as his band Gorillaz played the festival in 2018.
But for the rest of them – bassist Alex James, now a farmer who specialises in making cheese and writing about it, guitarist Graham Coxon and Rowntree – it's been 20 years since they last appeared.
Also signed up for the festival are 18 other names, including Queens of the Stone Age, Japanese Breakfast and Tove Lo.
Ticket sales are already underway, with full festival passes available for 2,400 kroner and one-day options on sale for 1,200 kroner. The festival runs from June 24 to July 1.
What's that? You wanna see Blur in Denmark but not in a field with a bunch of shrieking teens? There's no other way, we're afraid.