News
Sport Round-Up: Quite some tension between the FCK goalkeepers in Qatar!
---
Elsewhere, Kevin Magnussen has picked up a prestigious award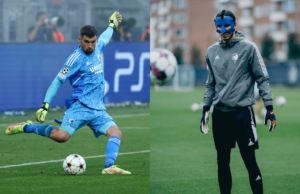 There's nothing but love between those two. The Australian goalkeeper Mathew Ryan joined FC Copenhagen in August. But he stayed on the bench during the first hole of the season, while Polish stopper Kamil Grabara kept goal for the Danish club.
The situation wasn't the one Ryan expected when he arrived, and he said in an interview with TV2 just before the World Cup that the reason why Grabara was the first-choice keeper was simply political. Then, there was a clash.
Wait for the right moment to respond
After Ryan's big mistake against Argentina on Saturday, the third-choice Polish goalkeeper didn't wait more than 10 minutes before reacting.
"Must have been politics, for sure," Kamil Grabara wrote on his Twitter account, before adding a wink-smiley face.
Dealing with it internally
The two keepers have both been eliminated from the 2022 World Cup in the last 16, as Australia and Poland respectively lost against Argentina and France on Saturday and Sunday.
Therefore, they will both be returning to their club soon, where the atmosphere is promising to be quite tense between the two men.
FCK told TV2 they were going to handle the matter internally.
---
U18 national team's coach to become Brentford assistant manager
Just three months after taking his new job with under-18 Danish squad, Claus Nørgaard is moving to the English Premier League. Nørgaard will replace Brian Riemer as assistant manager of Brentford, following his departure to join Belgian club Anderlecht, where he will assist Thomas Frank, a fellow Dane, and help coach a bunch of other nationals.
Danish woman footballer returns to the pitch after 435-day absence
Footballer Nicoline Sørensen was a bit emotional after her comeback on Saturday. After a terrible ligament injury, the Dane had been out since September 2021. Despite a 1-0 loss for her club Everton, she remembered that the most important thing was her completion of the game. "435 days later … I'm so damn proud! Thank you to everyone who has been a part of my journey," she wrote in an Instagram post.
Kevin Magnussen received prestigious award
The Haas Formula 1 driver Kevin Magnussen was awarded the Lorenzo Brandini Trophy on Saturday. The Dane was honoured for his achievements during the 2022 season, during which he notably made a pole position in Brazil. Before him, stars like Michael Schumacher, Lewis Hamilton, Fernando Alonso and Sebastian Vettel have received the trophy.
Young Dane cyclist signs first World Tour contract
Cyclist Tobias Lund Andresen, 20, has reached an agreement with German outfit DSM and signed his first professional contract. "It's a dream and a life change. I feel lucky that I've made it here," he told TV2. Last September, the young rider finished 27th in the Under-23 World Championships road race.
Counter-Strike Danish star's comeback culminates in solid win
Fans were not disappointed. Some 364 days after his cessation due to mental health problems, Nicolai 'device' Reedtz is back in the game. After returning to Danish eSport team Astralis, the 27-year-old Dane and his teammates won against Tricked in the last 16 of the CCT North Europe Series 2. Returning 'device' finished with a good ratio of 56 kills against 28 deaths. The cash prize of the tournament is estimated to be 350,000 kroner.