Things to do
December-January Events: It's alive! What better way to start 2023 than with 'Frankenstein'
---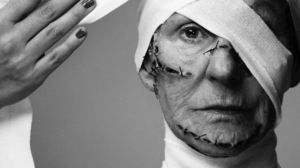 Frankenstein
Jan 6-28, performances Mon-Fri 20:00, Sat 17:00; Teatret ved sorte hest, Vesterbrogade 150, Frederiksberg; 180kr, teaterbilletter.dk
Why Not Theatre Company are trying their luck in January for a change with a run of their new take on Frankenstein penned by resident playwright Tanya Mastilo, the winner of the 2020 Reumert Award for her stunning play 'The Cheyenne are Leaving'. Other regulars involved are artistic director Sue Hansen-Styles, who would appear to be playing the 'monster' if the promo bandages are anything to go by, and actor Nathan Meister.
Same Shit, Different Planet
Jan 25-Feb 25, performances Mon-Fri 19:30, Sat 17:00; Krudttønden, Serridslevvej 2, Cph Ø; 180kr, teaterbilletter.dk
This is the third part of the trilogy penned by That Theatre Company resident playwright Fergal O'Byrne, the creator of 'Extremophiles' and 'Rub-A-Dub-Dub'. Set in a Martian dental surgery, it's been described as an emotional, funny, touching, quirky, robotic, thirsty, thought-provoking, dusty comedy. Among the cast are That Theatre regulars Katrin Weisser and Peter Vinding, while artistic director and founder Ian Burns is onboard to direct.
Rapunzel
Jan 31-Feb 6; Biblioteket Rentemestervej, Rentemestervej 76, Cph NV; ctcircle.dk
For over 10 years now, the Copenhagen Theatre Circle has been delighting international audiences with their take on the traditional British pantomime. Expect comedy, singing, cross dressing and plenty of audience interaction. It's perfect for children and families. Included in the cast this year is CTC legend Frank Theakston, our columnist on page 13, who is making a comeback at the age of 80. What's next? King Lear?
Crazy Christmas Cabaret: 'Don Calzone'
ongoing, ends Jan 14; Glassalen at Tivoli; from 360kr, teaterbilletter.dk; 135 min
This Crazy Christmas Edition will take us away from the dreary Danish winter to sunny 1980s Miami Beach, where the Calzone Family are in crisis again! Most of the team are returning from last year, so expect show creator and London Toast co-founder Vivienne McKee (see page 10 for her column), David Bateson, Katrine Falkenberg, Kevin Kiernan-Molloy and Andrew Jeffers as The Dame. Check out our review on Page 17 (SS)
Christmas at Tivoli
ongoing, ends Dec 31; Tivoli, Vesterbrogade 3, Cph V; standard entry: 145kr; tivoli.dk
The 28th Christmas season at Tivoli begins on November 19 with Santa Claus welcoming the first guests in his new house built on the square overlooking the Christmas village. The candles on the Christmas tree will be lit at the Great Fountain, accompanied by celebrities, while the Tivoli Gardens Brass Band and the Storybook Theatre elves will also entertain. (SS)
Christmas at Designmuseum Danmark
Dec 9-11, Fri 12:00-17:00, Sat & Sun 10:00-17:00; Designmuseum Danmark, Bredgade 68, Cph K; free adm with museum admission, otherwise: 20kr
With more than 70 designers and professional craftspeople, this is the chance to pick up a unique gift: from ceramics and glass, to jewellery and textiles. (SS)
Carlsberg Market
Every weekend in Dec, 10:00-17:00; Gamle Carlsberg Vej 11, Cph V; free adm
Carlsberg is once again holding its Christmas market in the historic surroundings of the former brewery. Sample beer and stroll around the stalls selling Carlsberg products. (SS)
Højbro Plads Market
ongoing, ends Dec 21, open Mon-Wed 11:00-20:00, Thu 11:00-22:00, Fri-Sat 11:00-22:30, Sun 12:00-19:00; Højbro Pl, Cph K; julemarked.nu
In the heart of the Old Town, the International Christmas Market is based on the typical German Weihnachtsmarkt concept. The wooden huts are imported from Tyrol and many exhibitors come from Germany. (SS)
Globe Christmas Quiz
Dec 15, 19:15; Globe, Nørregade 43, Cph K; 50kr, five per team
The winners get 1,200 kroner. And who knows, the odd rollover has been known to go too. Back-to-back quizzes following the cancellation of the September 22 edition.
The Nutcracker on The Royal Danish Theatre's Old Stage
ends Dec 21, Wed-Fri 19:30, Sat & Sun 13:00 & 17:00; Gamle Scene, Kongens Nytorv 9, Cph K; 135-805kr, kglteater.dk
Enjoy George Balanchine's version of 'The Nutcracker' set to the music of Tchaikovsky at the home of Danish ballet. Going to watch it is a beautiful Danish Christmas tradition. (SS)
New Year Concert
Dec 30, 19:00; Dec 31, 12:00 & 17:45 Operaen, Store Scene, Ekvipagemestervej 10, Cph K; 205-1,315kr, kglteater.dk
Enjoy the KGL's year-ending event, Nytårskoncert. The Det Kongelige Kapel never fails to disappoint, whatever genre they're performing. This time the first half is jazz and the second classical!
Messiah in the street
Dec 14, 19:00 & Dec 15, 19:00; Niels Hemmingsens Gade 5, Cph K; 160k, billeto.dk
Two street performances of 'Messiah' by the Copenhagen Oratorio Choir outside Helligaandskirken. Among the performers are soprano Signe Sneh Durholm, counter-tenor Stephen Yesata, bass Martin Hatlo, tenor David Danholt and conductor Torsten Mariegaard. (SS)
Christmas in the Cathedral
Dec 15, 19:00; Roskilde Cathedral, Domkirkestræde 10, Roskilde; from 150kr; roskildedomkirke.dk
Enjoy a Christmas concert as the Roskilde Cathedral Boys' and Girls' Choirs put on a performance of 'Handel's Messiah'. (SS)
CPH Musical Theater Xmas Concert
Dec 17, 15:00 & 19:00, LiteraturHaus, Møllegade 7, Cph N; 95kr, cphmusicals.com
Expect Christmas show-stoppers galore. (SS)
Kongens Nytorv Market
ongoing, ends Dec 22, open Mon-Wed 11:00-19:00, Thu 11:00-20:00, Fri & Sat 11:00-21:00, Sun 12:00-19:00; Kongens Nytorv, Cph K; admission free jul-i-kobenhavn.dk
In the city centre there is a market that brings together the Christmas essence of the Danes. Father Christmas will be there for photos surrounded by the smell of hot drinks and sweets. (SS)
HC Andersen Market
ongoing, ends Dec 21; Nytorv, Hulgårdsvej 27, Cph K; free adm, julemarked.co
A fairytale Christmas market in the heart of Copenhagen. All the stalls are named after Hans Christian Andersen's fairy-tales and you can even meet the famous author in person and have your photo taken with him. (SS)
Little Simz
Dec 14, 20:00; Amager Bio, Øresundsvej 6 ,Cph S
This British rapper, singer and actress is hip-hop's biggest up-and-comer. (SS)
Dragør Market
ends Dec 18, Sat & Sun 12:00-17:00; Badstuevælen, Dragør; visit-dragoer.dk
Come to the old town of Dragør and discover the Christmas stalls that fill Badstuevælen's central square. Buy small gifts and enjoy sweet glögg wine. (SS)
Anglican Christmas
Dec 24, 12:00 & 23:00; Dec 25, 10:30; St Alban's Church, Churchillparken 11, Cph K; st-albans.dk
Celebrate Christmas Eve at the family nativity service at 12:00 or the midnight mass on Christmas Eve at 23:30. On the 25th, the Christmas Day Sung Eucharist starts at 10:30. And in the run-up, don't miss the Carol Service (Dec 11, 16:00 & Dec 12, 19:00). All services are in English. (SS)
Christmas at Bakken
ongoing, ends 22 Dec; Dyrehavevej 62, Klampenborg; free adm; bakken.dk
The world's longest-running themepark has a market with traditional food. Santa Claus will be there with his singing reindeer to put on shows for the whole family. (SS)
The Nutcracker at Tivoli
ends Dec 23, Tue-Thu 19:00, Fri 16:00, Sat 12:30 & 16:00, Sun 12:30; Tivoli Concert Hall; 220-690kr, tivoli.dk
Set in Tivoli itself on one Christmas night in the late 19th century, Danish Queen Margrethe II has designed both the set and the costumes for this production! (SS)
Gravens Rand Quiz
Dec 20; Søndre Fasanvej 24, Frederiksberg; entry 30kr
Maximum of four per team, it's 1,000 kroner for the winners and a crate of beer for second. Two beer rounds, and shots for last place!
Christmas at Koncerthuset
Dec 18, 20:00; DR Koncerthuset, Ørestads Boulevard 13, Cph S
Enjoy a whole range of Xmas songs, from Whitney Houston and Ella Fitzgerald to Disney.
KGL Christmas Concert
Dec 13, 17:30; Gamle Scene, Kongens Nytorv 9, Cph K; kglteater.dk
A traditional show for the whole family including excerpts from Handel's Messiah. (SS)
Blackpink
Dec 15, 19:00; Royal Arena, Hannemanns Allé 20, Cph S
This K-Pop act are one of the world's biggest girl bands.