Things to do
On Screens for December: How long before a hiatus requires resurrections too?
---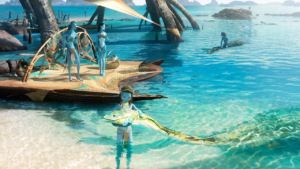 I'm not sure I can even spell the word 'hiatus'. Let's face it, until about 20 years ago we all thought it was some sort of Japanese crisis. Now we know it means sabbatical for lazy privileged bastards. Will Smith recently came back from one with the film Emancipation (Apple on Dec 9; 58 on Metacritic), which can literally mean 'free from social restrictions'. I don't remember the worldwide memo saying "Welcome back, Punchy".
Like buses: 13 years then three
For a long time, the hiatus has been the preserve of bands. From the glam rockers of the 1970s, to the boys bands of the '90s, they're welcomed back with open arms – proof our taste in music never changes once we hit our teens. The same can't be said of the food and drink we liked as kids, but what about movies?
Just this year, we've had Hocus Pocus returning after a 29-year gap, Coming to America after 33, and Top Gun after 36. All three smoke the 25 years between The Hustler and The Color of Money, but the gaps feel shorter because more of us got old through them. Besides, Fast Eddy finally gets to see what colour the balls are, so a lot more changes visually if you watch them as a pair.
So while the 13-year gap between Avatar and Avatar 2: The Way of Water (Dec 14; Not Released Worldwide) may strike you as absurd – surely the smart thing would have been to quickly make a sequel to the highest grossing film in history, instead of waiting for the entire cast to age by another decade – it then dawns on you that it's mostly a cartoon. Sam Worthington, whose career quickly sunk to the same plateau he was hoisted from, could have easily been replaced in the main role and the only thing missing would be the slight hint he's Antipodean. In contrast, Zoe Saldaña, the female lead, went skywards with the Avengers to the extent she's been in three of the five biggest hits of all time.
As the title suggests (surely in Star Wars-style, the first movie should be retrospectively renamed 'A New Bloke'), this film makes use of the abundant water we saw so little of in the original – trust us, it was there, but those islands preferred to float – and, think about it, they're called the Na'vi so they must be good in the sea. Sigourney Weaver is back, even though we saw her character deservedly slain, and Kate Winslet has joined the team – to be fair, she rocked green hair in Eternal Sunshine of the Spotless Mind, so why not. Hope this isn't a spoiler but she's not signed up for the third (due out Christmas 2024) or the fourth (Xmas 2026 – yeah, it's Lord of the Rings all over), but come on … someone's got to die, even if it is just a Na'vi.
20th century Cronenburg
It's not the same thing, but Operation Fortune: Ruse de Guerre (Jan 5; NRW) took a hiatus before it was even released. Originally slated to come out on March 17, it took a ten-month breather. We'll stick with what we said back then: "It has all the ingredients to be another Guy Ritchie howler and … of course Jason Statham is in it."
David Cronenburg has been on a hiatus, both from directing – eight years – and writing, as Crimes of the Future (Dec 1; 67) is only the second film he's written this century. Immediately, the trailer is reminiscent of eXistenZ, but I cut it short after 10 seconds in case it spoils any of the fun.
And so has Greta Gerwig – from acting, as her only appearances since 2016 have been voice roles. She again links up with her France Ha director Noah Baumbach and co-star Adam Driver, the 'mumblecore messiah' in his fifth film with Baumbach, for White Noise (Dec 8 at cinemas; Dec 30 on Netflix; 68), a film with no discernible plot. Wait? There's a train crash? Mumblecore actors don't run! They just don't!
Just like Dad … almost
Couldn't help noticing that Emily Mortimer and Alessandro Nivola's children have roles in White Noise as the kids of their father's character – a worrying nepotistic trend in Hollywood. Last year, an entire family was cast in Licorice Pizza, while the actor who played Prince William in The Crown was none other than the son of Dominic West (Prince Charles). It didn't really add anything.
Other than being a nice little segue to The Son (Jan 5; NRW), the latest film based on a play by Florian Zeller (The Father), with the German again directing a cast that includes Anthony Hopkins. Apparently it's not as good, though. Zeller should have remembered it's like father, like daughter …
The Bronte sisters got it from Dad. That figures as the only son, Branwell Brontë, ended up being a painter. And Dad, the vicar, ended up outliving them all. Emily (Dec 8; 77) tells part of their story – as the author of Wuthering Heights, it has to be more passionate than any Charlotte biopic – looking good with Emma Mackey from Sex Education in the title role.
Whitney Houston bucks the trend though, as she got her voice from her gospel-singing mama. I Wanna Dance with Somebody (Dec 25; NRW) stars Naomi Ackie, a British actress with an already eclectic body of work. Definitely one to look out for.
Also at cinemas, Tom Hanks is the grumpy neighbour whose heart melts in A Man Called Otto (Jan 12); M3gan (Jan 12) is yet another thriller about a creepy doll-like android; and Devotion (Dec 1; 66) is an air force drama set during the Korean War for a change.
On Netflix, we've got the sequel Glass Onion: A Knives Out Mystery (Dec 23; 81), the remake Matilda the Musical (Dec 25; 68), the reboot Lady Chatterley's Lover (Dec 2; 68), and the recently-released GDT's Pinnochio (previewed last month).
And on Amazon Prime, Something from Tiffany's (Dec 9), possibly the Xmas romcom you've been yearning for if the other Pandora's not your cup of tea, and Nanny (Dec 16;73), a decent looking thriller about an African refugee who can't stop thinking about the family she left behind whilst caring for the children of her new one on the Upper East Side.
Primed to compete
Over on TV land, the pickings are not as rich. Returning series include Emily in Paris (S3; Dec 21) and The Witcher: Blood Origin (prequel; Dec 25) on Netflix; Gossip Girl (S2; Dec 1), His Dark Materials (S3; Dec 6) and Doom Patrol (S4A; Dec 9) on HBO Max; Slow Horses (S2; Dec 2), Little America (S2; Dec 9) and Servant (S4; Jan 13) on Apple; National Treasure: Edge of History (reboot of movie franchise; Dec 14) on Disney+; and Hunters (S2; Jan 13) on Amazon Prime.
There are a handful of promising documentaries: Branson (Dec 2; HBO Max), The Case against Cosby (Dec 6; CMore), War in Afghanistan close-up Retrograde (Dec 8; Disney+), and If These Walls Could Sing (Dec 16; Disney+), which tells the story of Abbey Road Studios. And for those of you with Crown withdrawal symptoms, we've got the first half of Harry & Meghan (Dec 8) on Netflix, with the concluding three episodes on December 15.
That just leaves Riches (Dec 2), black Britain's answer to Succession; Three Pines (Dec 2), a promising detective vehicle for Alfred Molina set in Canada; and The Rig (Jan 6), a supernatural North Sea thriller that reunites half the cast of Game of Thrones. All three are on Amazon Prime – all part of a Christmas marketing plan, no doubt. The rest of the streamers would appear to be taking a hiatus.