Denmark
Metal detector enthusiasts condemned for reckless actions at WWII crash site
---
Amateur archaeologists could have easily detonated an untold amount of explosives in southern Denmark in November
There are three vital lessons all metal detector-wielding amateur archaeologists should learn before searching for hidden treasure.
Lesson number one: always consult the history books before you choose your excavation site. In the case of a bunch of enthusiasts in southern Denmark, they might have learned that their field of choice just north of Sønderborg was the scene of a huge plane crash during World War II.
When the plane in question – a Halifax bomber, a member of the British RAF 51 Squadron – crashed into a field in Kær Hestehave in July 1943 it was carrying seven 1,000-pounders – that's 3,178 kilos of explosives.
Lesson number two: if you're badly prepared, don't embark on your expedition with children in attendance. Their tiny hands might be needed "to polish the inside of a 45 mm shell casing" in Schlinder's List, but … that won't work in their favour if they're handling real explosives.
And lesson number three: let the size of the crater caused by the controlled explosion carried out by Danish Defence on November 16 be a lesson to all amateur archaeologists about the perils of digging too deep: it was almost as large as the one that wiped out the dinosaurs!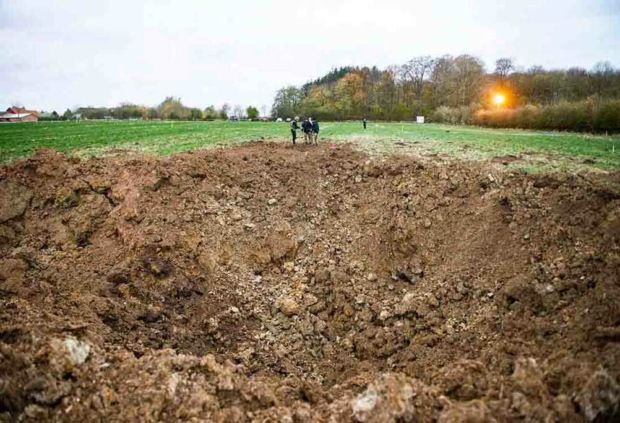 Lack of respect for war graves site
According to the Environment Ministry, the metal detector depth codex is 25 cm, but those present dug much, much deeper, exposing some of the actual explosives.
The closeness they came to tragedy has left Robert Cobley, the honorary representative for Denmark at the Commonwealth War Graves Commission (CWGC), outraged – not only at the inherent danger of such an act, but the lack of respect for what is the war grave of multiple servicemen.
"It is reprehensible that 30 amateurs including their children dug deeper 'for personal effects' in a field where seven young men died and whose remains were only partially recovered," he told CPH POST.
Cobley's expertise was sought after once news of the discovery reached the authorities, and he spent around ten days liaising with Danish Defence and CWGC ahead of the explosives at the site being safely detonated.
In total, seven Allied servicemen lost their lives when the Halifax was shot down by a German night fighter. They are all buried in CWGC graves at Aabenraa Cemetery. A local memorial to their sacrifice, constructed by the people in the area, still stands nearby.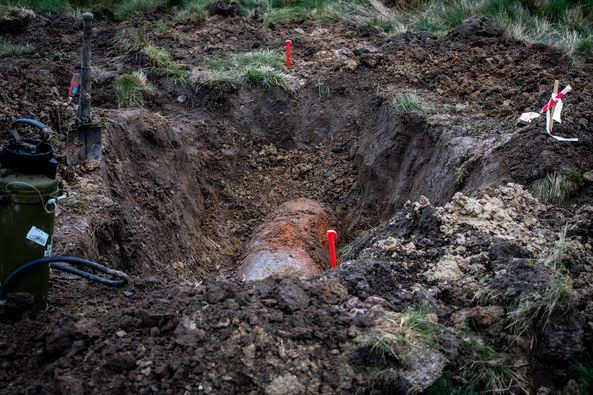 Excavations need to be authorised
In the end, nobody was harmed by the explosives that had remained undisturbed for nearly 80 years, but it was a stark reminder of the dangers that lie in both Danish land and waters.
Dr Stephan Naji, the head of CWGC's Recovery Unit, was thankful there was no loss of life.
"In this case the Danish authorities were able to respond quickly and professionally to deal with the danger presented by the disturbance of the crash site. We're glad that the people of Kær Hestehave are safe and have been able to return home," he noted.
"It's a reminder to everyone of the dangers of unauthorised excavations on sites that haven't been searched by de-mining teams before work starts."