General
Noah saw off 40 days of rain; this lot 40 years of booze!
---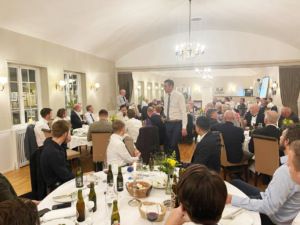 It was a night of awards: approximately 20, as each of the ten teams who play under the banner of Copenhagen Celtic bequeathed their players of the season and top goalscorers with little trophies to remember their achievements in years to come. The losers had to be content with waking up with only hangovers.
But there was more at stake this time: 2022 marks the 40th anniversary of the founding of the international football club, and Celtic accordingly pushed the boat out (not literally, although they celebrated their 25th on one docked near Nyhavn) and hired Bellahøjgaard – a venue more known for fancy wedding receptions, which was quite apt given how many players, past and present, are married to the club.
Pictured below is regular award winner Hrafnkell Birgisson, an Icelander who knows how to find the net – for goals and fish. He only passes if you pronounce his name properly, which may explain his ridiculous goal tallies.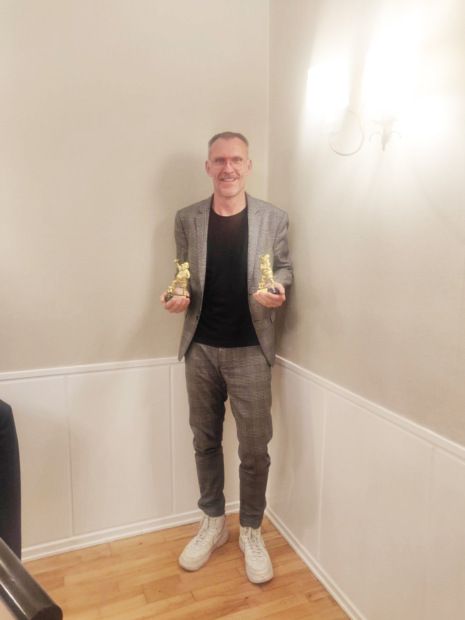 Cometh the hour, cometh the man. In similar fashion to other all-time footballing greats – like Pele, Zico, Jairzinho … err … Motto, Statto – the founder of Copenhagen Celtic goes by just one name: Coogan. In between courses (below), he addressed the hundred-odd present with a speech that was surprisingly poignant … and sober. Granted, he won't be around to mark the 80th, but at least he woke up with clear memories of the 40th. Don't ask him about the 10th, 20th, 25th or 30th.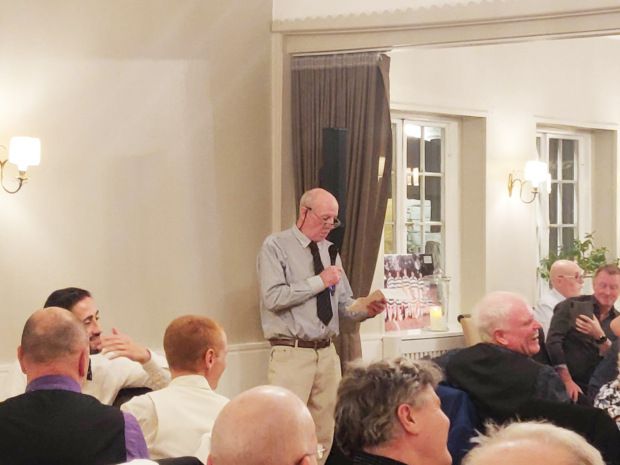 Among those in attendance were a mix of current and recently retired Copenhagen Celtic legends (below) Ray and Ronnie, Stuart and Jonesy, Darren and Simon, and Vernon, a sweeper-cum-winger with a Beckenbauerian instinct for goals who has turned scorey-telling into an artform.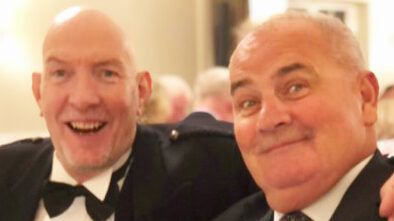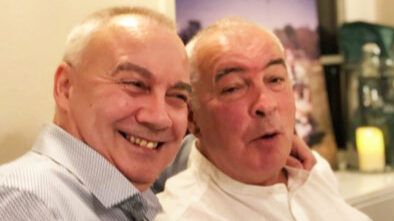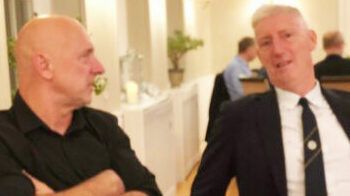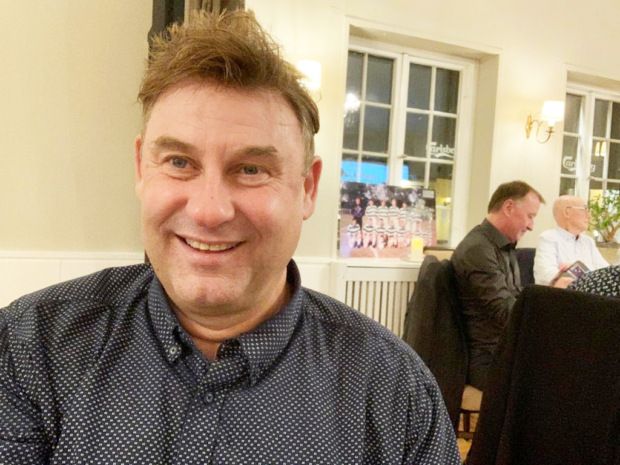 Just in case you're wondering, the bulk of the club's members are under 40, but they were conspicuously absent when the official photographer was doing the rounds. Pictured here (below) are Mick Carpenter, the first ever player of the season, with 1882 … sorry 1982 team-mate Patrick Brennan; long-time treasurer and manager Stephen 'Baller' Ball, current treasurer Dave Kavanagh (nice try, but he's just turned 40) and 1995 DAI Cup-winning co-manager (with Baller) Stevie Harris;  Hrafnkell Birgisson and Roberto Montella, the respective over-45 and over-50 top goal-scorers; and finally the top table with Mick Hayden, the sole remaining player of the 1982 brigade who has played every season since, with Captain Coogan and his trusty lieutenant – his partner of 40 years (hasn't aged a day) whose body he's been known to share with many a team-mate. Of course, we're talking about the bottle of Tuborg.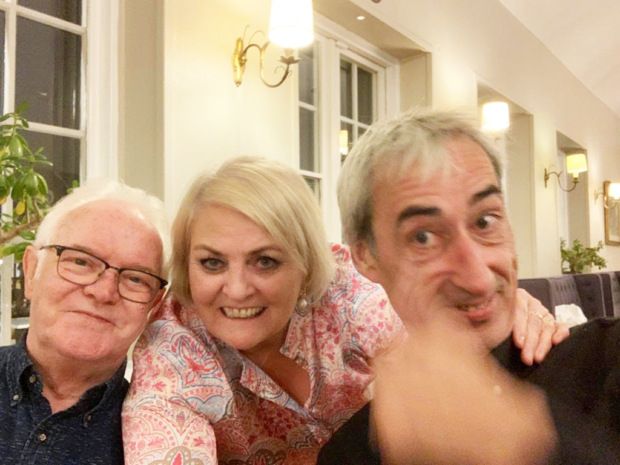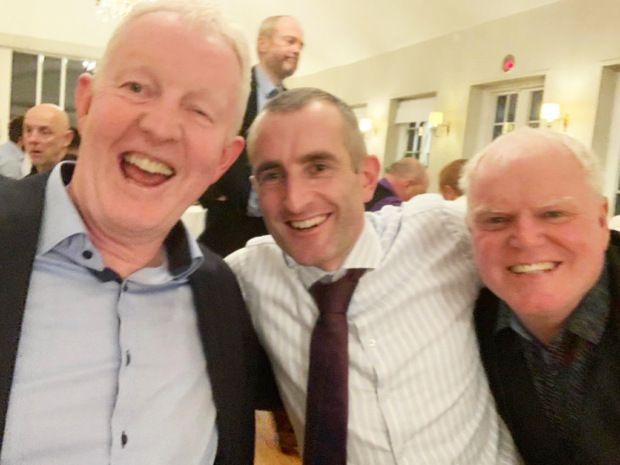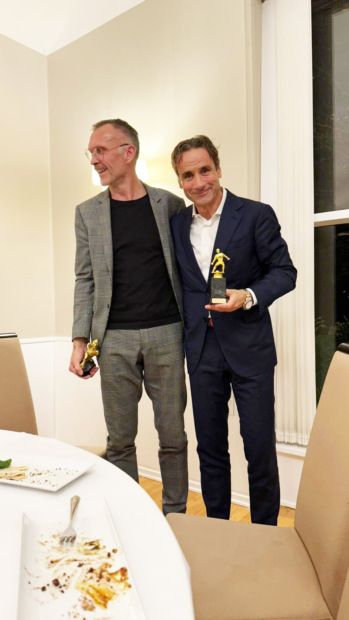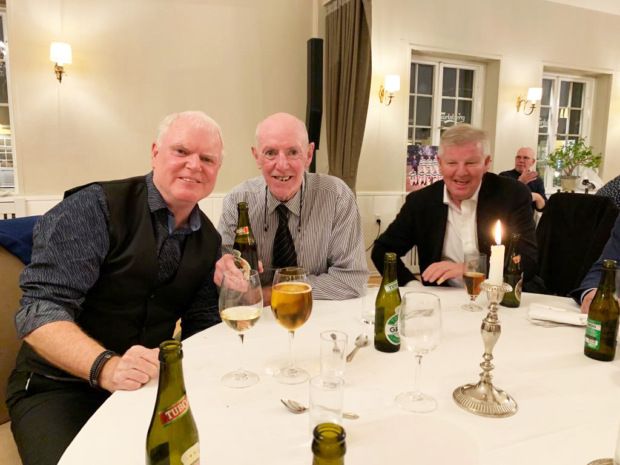 It wasn't just an occasion to salute the men, but also their long-suffering wives. Of course, most of them have long cleared off, but a few still remain, including (below) Gitte Brennan, the wife of  former first-team manager John; Tina Ball, the better half of Stephen; Pia McCoy, 'er indoors chez Des; and Suzanne Harris, finally pinning down serial table-hopper Stevie.