International
World Economic Forum '23: Attendees braced for a deeply systemic transformation
---
Reporting directly from one of the most keenly anticipated gatherings at Davos in living memory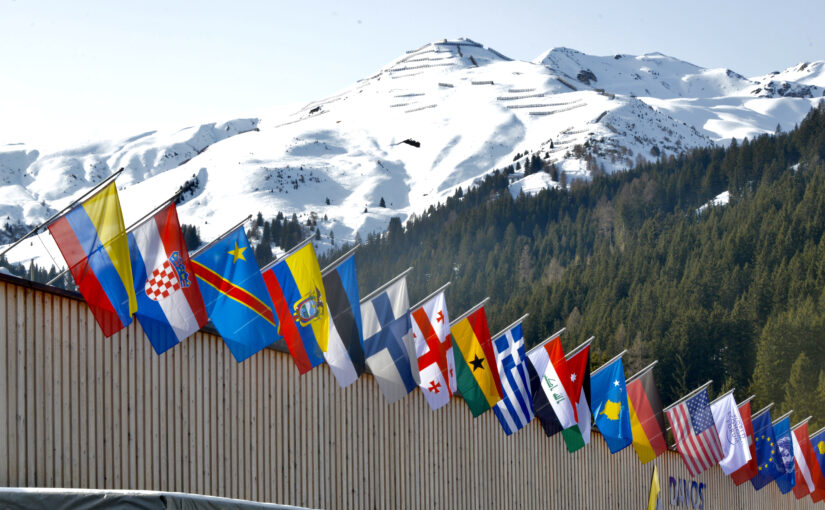 It says a lot about this gathering that the CEOs and chairs of most of Denmark's biggest companies – including the leaders in charge of Maersk, Carlsberg, DSV, Lego Group, Novo Nordisk, PensionDenmark, Vestas and Ørsted – will be in attendance, but they won't even be considered VIPs.
So it's no wonder snipers can be seen on the roofs of snowed-in luxury hotels, and that Swiss Army guards are blocking the roads. They're on high alert as helicopters circle the mountains, flying in presidents, billionaires and tycoons to join the leaders of commerce.
Yes, it's Davos-time again. From today, Monday January 16, until the 20th, the 53th Annual Meeting of the World Economic Forum (WEF) will be taking part in Davos, Switzerland.
Huge participation
"This year's Annual Meeting has a record participation," confirms WEF founder Klaus Schwab. The upcoming meeting will convene more than 2,700 leaders from 130 countries, including 52 heads of state/government.
They include Olaf Scholz (Germany), Cyril M Ramaphosa (South Africa), Pedro Sánchez (Spain), Alain Berset (Switzerland), Ilham Aliyev (Azerbaijan) and Alexander De Croo (Belgium), along with a few former leaders, such as Denmark's first female PM, Helle Thorning-Schmidt.
Arguably even more important are the heads of supranational organisations in attendance, including Ursula von der Leyen (European Commission), Antonio Guterres (United Nations), Kristalina Georgieva (International Monetary Fund), Ngozi Okonjo-Iweala (World Trade Organization), Jens Stoltenberg (NATO), Tedros Adhanom Ghebreyesus (World Health Organization), Fatih Birol (International Energy Agency), Catherine Russell (UNICEF) and Mirjana Spoljaric Egger (Red Cross).
Co-operation is key in 2023
For more than half a century the Davos meeting in January has been helping the world to prepare for a new year, but this time around Schwab is hopeful it can be a new era. "We need a deep systemic transformation," he urges.
In these post-pandemic, and hopefully not pre-world war days, global action is needed, contends Schwab. Accordingly the WEF has chosen 'Co-operation in a Fragmented World' as its theme for this meeting.
"One of the root causes of this fragmentation is actually a lack of co-operation. This increases fragmentation in society and leads to even more short-term and self-serving policy-making. It is a truly vicious circle," observes Schwab.
The former business professor has made it his life's mission to break this vicious circle and to demonstrate that compassion, values and decisions – which serve the higher good of all – can be beneficial, especially to billion dollar companies.
Where magic can happen
The global press coverage that follows every move made by a world leader in Davos makes it irresistible to many to be 'the good guy' – or at least to pretend to be 'the good guy'.
This makes Davos particularly unique, and sometimes even a magical place that has prevented many wars, crises and other catastrophes from happening.
Some compare the WEF to a big laundry salon. It has not been uncommon for opponents and enemies –such as Shimon Peres, while he was prime minister of Israel, and Yasser Arafat, the former leader of the Palestinian National Authority – to be locked up in a private room.
After swearing and cursing and openly speaking their minds, opponents can hopefully make a fresh start whilst holding hands against the snowy backdrop of Davos.
This year's hot potatoes
This year's potential Middle East Peace Talks is the War in Ukraine, and it will top many agendas. However, unlike at previous forums, Russian President Vladimir Putin has not been invited to Davos, and neither have any potential members of a Russian delegation.
Delegates from the Ukraine will be present, but due to security reasons WEF president Börge Brende has not disclosed any names.
At the hundreds of high-level sessions the participants will work hard to find solutions to the most pressing global challenges, such as climate change, the anticipated post-pandemic global recession, and the explosion of the cost of living.
And another major topic will be the increased hatred and polarisation so visible in our societies.
Determined delegations
This year the WEF expects a strong participation from the MENA region. Delegates from the UAE will use the platform to prepare for the next major climate conference, COP28. The 28th session of the Conference of the Parties to the UNFCCC will convene in the UAE from 30 November to 12 December 2023.
Cyril Ramaphosa, the President of South Africa, is currently chairing BRICS. Ramaphosa will most likely use Davos to prepare for upcoming major BRICS meetings in South Africa. BRICS, the umbrella organisation of the five leading emerging economies of Brazil, Russia, India, China and South Africa, is currently discussing if Saudi Arabia should be admitted into the group.
Ultimate melting pot
Davos is a seismograph of the state of the world. The almost insane accumulation of wealth and power in a tiny Swiss town not only inspires action and spy movies, but also conspiracy myths.
Some myths are not so far away from what is really going on, as many world leaders are known to shake hands on deals in secretive closed rooms.
However, far less is written about the transformational power released when spiritual leaders, social entrepreneurs, youth activists, NGO representatives and innovators spend a week with 600 top CEOs, presidents and other world leaders.
This melting pot of idealistic, determined delegates and world leaders – all bearing the same WEF badge on their lapels – ensures Davos can be a global powerhouse for good.