Things to do
On Screens in February: Every British film is a Hogwarts reunion these days
---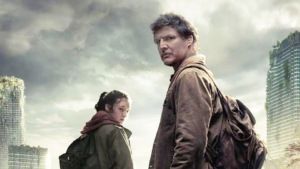 I'll tell you what I want, what i really really want."
"Oh yeah, what's that: the definitive football film?"
"No! Something about vampires/zombies that people who hate films/series about vampires/zombies actually like?"
"So people who hated Zombieland, 28 Days Later etc. Even those who didn't like Interview with a Vampire?"
"Yeah, those suckers: we take over their souls and humankind is finished."
In Braavos and In Bruges
Well, Wednesday (Netflix; 66 on Metacritic) proved they could make something decent about the Addams Family, so anything's possible, right? But just because the critics love The Last of Us (HBO Max; 84), does that mean we have to watch what is apparently the best ever adaptation of a video game? If you were underwhelmed by the opener, episode 3 is apparently when this show really comes alive. It doesn't hurt having Craig Mazin, the genius who created and wrote Chernobyl, signed up as the showrunner, and Pedro Pascal is always dependable, even if the girl's a bit annoying.
For Pascal and Bella Ramsey, it's a Game of Thrones reunion, and they're not the only ones reuniting for the good of mankind. Director Martin McDonagh again takes charge of Colin Farrell and Brendan Gleeson for The Banshees of Insherin (Jan 26 at cinemas; 87), and the result is charming. Set in 1920s Ireland, it's a simple tale with a political message worth conveying – McDonagh's best since In Bruges, the last time the three combined forces.
Damian Chazelle's latest tour-de-force, Babylon (at cinemas; 60), reunites Brad Pitt and Margot Robbie from Once Upon a Time in Hollywood – ironically what this film should be called – but the reviews have been more luke-warm than the La La Land boy wonder is used to.
While Cunk on Earth (Netflix; Jan 31) is a welcome return for the humorous mockumentary series created by Charlie Brooker and performed by Diane Morgan (channelling her role in Mandy to an extent), which pushes the same buttons as Ali G, offering history lessons like you've never encountered before.
You provoked me, your honour
Not every reunion is eagerly anticipated, and here are four that will surely send us all running for the hills.
Quite what happened to the Bryan Cranston vehicle Your Honor (HBO Max) when it was interrupted by corona remains a mystery – never before has such a promising show gone downhill so quickly – but now we have an enigma that will even stump Bletchley Park: the commissioning of a season two.
The continuation of You (Netflix; Feb 9) is equally baffling. While season 1 was tolerable, 2 and 3 were dire. But instead of calling it a day, they've transported the creep to London. If you're still watching this, we guess the joke's on 'you'.
The team are back for Ant-Man and the Wasp: Quantumania (cinemas; Feb 16), but seriously, you know you're in trouble if they say a Marvel film 'sets up' another Marvel film. Why not just have a Star Wars-style block of text at the start saying "Ant-Man got squashed and Wasp got squished" and save yourself the bother?
A film with two tag-lines is also a disastrous sign, particularly if they're forgettable and flaccid. Here's hoping Magic Mike's Last Dance: The Final Tease (cinemas; Feb 9) ends with a final cut that ensures he never strips again.
Hard truths Harrison
It's bizarre to see Salma Hayek has been snubbed by the Academy for her role in Magic Mike. Who's going to beat Cate Blanchett – shortlisted for her performance as an orchestra conductor on the edge in Tár (Feb 23, 92) – now? Certainly not Danielle Deadwyler, who's been overlooked for Till (Jan 26; 79) as the mother of a son lynched in 1950s America.
Whoopi Goldberg is in the latter – she must owe somebody money because she can't stop making shows. No joke, her latest IMDB entries are Godfather of Harlem and plain old Harlem (Amazon Prime; Feb 3). Looks awful.
And talking of running before you can walk, no sooner had Harrison Ford notched up the first TV appearance of his career, Yellowstone prequel 1923 (CMore) alongside Helen Mirren, he'd made his second: the promising series Shrinking (Apple; Jan 27; 63) in which a psychologist (Jason Segel) decides to give his patients the truth. Well, let's start with you Harrison: don't do Indiana Jones V, that ship has sailed.
Bad-ass bitches in Baghdad
Staying with TV, among the series returning are Vikings Valhalla (S2; Jan 12), Ginny & Georgia (S2, Jan 5), Sexify (S2; Jan 5), That '90s Show (S9; Jan 19), Outer Banks (S3; Feb 23) and Sky Rojo (S3; Jan 13) on Netflix; Carnival Row (S2; Feb 17) on Amazon Prime; and Last Week Tonight with John Oliver (S10; Feb 20) and Snowfall (S6; Feb 28) on HBO Max.
Don't let that insipid lot put off, as dark comedy The Consultant (Amazon Prime; Feb 24) with Christoph Waltz looks promising. It's penned by Anthony John Basgallop (To the Ends of the Earth & Servant). As does Hello Tomorrow! (Apple; Feb 17) with Billy Crudup (The Morning Show) as another unscrupulous sales boss. And why not give The Exchange (Netflix; Feb 8) a whirl – the tale of two women who take on the men on the stock exchange floors of late 1980s Iraq!
There's something familiar-sounding about Dear Edward (Apple; Feb 3), in which the young protagonist loses his family in a plane crash, and Liaison (Apple; Feb 24) with Eva Green and Vincent Cassel in which the mistakes of the past end up destroying the future, but neither can be as bad as Copenhagen Cowboy (Netflix; 63), the latest meandering outing from Nicholas Winding Refn. It will take you to settings you didn't know existed because they don't. Finally, despite the strong reviews, The Lying Life of Adults (Netflix; 79) is also a disappointment. It has good production values and all the classic ingredients – Napoli, dysfunctional family, good cast, Elena Ferrante source material – but something's missing. In a nutshell: Paolo Sorrentino.
Mrs Dave Franco if you please
It's a shame because Valeria Golino (Rainman) deserved more after her comeback in The Morning Show, but who knows when she picked up the part: before or after. The same question could be asked of Sebastian Stan (Pammy & Tom) about his role in Sharper (Apple; Feb 17), a conman caper with John Lithgow and Julianne Moore, and Alison Brie, the main star of Glow, who's next film is Somebody I used to Know (Amazon Prime; Feb 10). Oh, hang on, we know: it's directed by her husband Dave Franco – are they Hollywood's next power couple?
It's one of several films with limited appeal heading our way, which include Plane (cinemas; Jan 26; 62) with Gerald Butler, You People (Netflix; Feb 27; 54) with unlikely pairing Jonah Hill and Eddie Murphy, sailing yarn True Spirit (Netflix; Feb 3), and romcom Your Place or Mine (Netflix; Feb 10), which is Ashton Kutcher's first movie for 10 years.
That leaves two bizarre entries to finish us off … they might, literally, in all fairness. Cocaine Bear (cinemas; Feb 23) promises to be this year's Snakes on a Plane, while the critics were tepid about A Pale Blue Eye (Netflix; 56) with Christian Bale, which features Timothy Spall and Harry Melling (as Edgar Alan Poe no less), the actors who played Peter Pettigrew and Dudley Durdsley in five of the Harry Potter Universe films. That's a reunion that even Professor Trelawney didn't see coming.