General
Performance Review: Rapunzel's rapport says it all: we're all panto-lovers at heart
---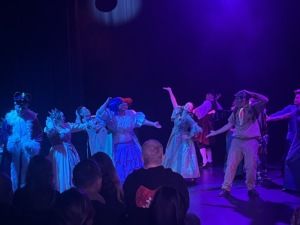 This year's pantomime production from the Copenhagen Theatre Circle was a particularly ambitious rendition of the classic story 'Rapunzel'.
Fun for all
It's worth noting that this review is being written by an American who, until the opening night on January 31, had yet to experience the pleasure of experiencing this British tradition. And though, as the play suggests in its intro, no American could understand a pantomime except by accident, I would like to assure the reader that I had a great time, and I am myself very accident-prone.
For readers out there with American roots and everybody else, no matter what their experience of pantomimes might be, I would assure you there is something in this show for everybody. Based on a survey taken by the cast of the audience involving a raising of hands and voices, there was an almost 50/50 split between those who had seen a pantomime before and those who had not. By the show's end, though, everybody was just as involved as their neighbour, laughing, shouting, hissing, and even dancing.
Cast standouts
The cast was as varied as the audience the show was intended for, but everyone brought an equal amount of joy and enthusiasm to their part, big or small. The cast's enthusiasm was contagious, and the audience could not help but get involved.
Two clear standout performances in the show were the parts of Brunnhilde Blunderberg and her son Max, played by Rudy Hiding and Chris Thorup respectively. In drag as Rapunzel's nanny and protector, Rudy Hiding brought confidence, humour and energy to the role that could not be matched by anyone else on the night. Chris Thorup may have been a close second.
A stellar performance quickly replaced some early opening night jitters as the night progressed. I am, of course, talking about Emily Foate in the part of Rapunzel. Like her character, Emily seemed to find confidence and footing throughout the play. Particularly impressive was the chemistry between Foate and co-star Julian Grosiengfiao, in the role of Rudi O'Malley, who were involved and animated for their entire time on stage.
Slight quibbles
Perhaps my biggest criticism of the show is that more could not be found for Gretta Attard, who was the Queen of Evergreen, to do or sing. In her limited opportunities, her voice stunned and was a night highlight. There were whispers all around me in the audience in awe of her voice.
Also worthy of a mention for her wickedly fun performance was Diana Moisa in the role of Waylon the Gothel's evil attack animal.
Some jitters
Including the intermission, the show's runtime came in at almost three hours. There was no shortage of fun, but a slightly shorter show may have been just as enjoyable. The runtime was not helped by technical hiccups and particularly long set changes. The cast rolled with the punches expertly and made the most of some of the technical mistakes and actor errors to improve the show in some cases.
Many of those mistakes could probably be chalked up to first-night jitters, and I can only imagine that every day this show runs, it will get impossibly better.
Missed opportunity
The show is accurately billed as a British panto, as most of its jokes and references are Anglo-centric. For many in the audience, this was very enjoyable, but for a play in Denmark, it seems some more Copenhagen-specific humour would have been great.
Overall though, it was a great night at the panto, and any parents looking for something fun to do with their kids tonight or until February 5 should look no further than the Copenhagen Theatre Circle's British panto production of 'Rapunzel'.