Things to do
It's February: Let there be light!
---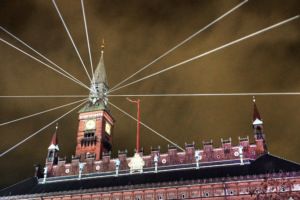 The third verse of Genesis, and no, we're not talking about the first time Phil Collins and Peter Gabriel harmonised on stage, included the immortal line: "Let there be light!"
At some point on the third day of February, a similar command will be issued. And on the fourth, and the fifth, and for three more weeks, all the way until February 26.
For the sixth year, the Copenhagen Light Festival is returning to light up Copenhagen with 35 installations, numerous pop-up and thematic events, and a wide selection of guided tours, parties and treasure hunts.
On February 3, it will open to the public at the Royal Danish Playhouse followed by a big concert at Holmens Church. Green-minded, the festival will only use special energy donated by its sponsor Ørsted.
Undeterred by corona and an incredible cold spell two years ago, it keeps on coming back for more, bringing badly needed light into our lives at a time when we need it most.
In the suburbs too
No doubt, 2021 was a breakthrough year for the free festival. Completely starved of indoor cultural events due to the pandemic, a record half a million people braved sub-zero temperatures to attend.
It was as if each installation was a giant heat-emitting beacon, drawing in the shivering crowds, warming them up with their sheer wonder.
Primarily set up lining Copenhagen Harbour, this year will include installations in far-flung locations as well, including outer-Copenhagen parks Bavnehøj, Remiseparken and Ørestaden, and even suburbs such as Brønshøj, Sundby, Vanløse and Tingbjerg.
To admire the city centre lights, visitors are inspired to choose from three routes – measuring 2, 5 or 10 km – which they can walk, run or cycle.
Organisers have divided the more than 35 installations into three groups: 'Artistic', 'Architectural' and 'Experiences'. The first category is all about the message, the second the spectacle, and the third more family-orientated.
Book early for tours!
"We hope that many Danes and foreigners will again visit Copenhagen during the winter holiday and spend a few days seeing the installations," enthuses the festival curator, Jesper Kongshaug.
"We are attempting to accommodate our guest's wishes for installations that are of a high artistic caliber and which also provide fun family experiences."
Kongshaug warns visitors to book tickets for the guided tours as quickly as possible, as they tend to sell out quickly.
Extra tours along the canals have been organised in anticipation of the huge interest – and new this year, there are also beer, wine and dance tours, as well as special arrangements for the visually impaired.
Make sure you download the festival app so you are fully briefed on what is going on.