Things to do
Winter Holiday: Wheels of outrageous proportion
---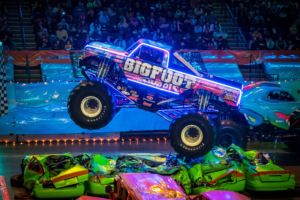 Hot Wheels Monster Truck
Feb 11, 11:30 & 18:30, Feb 12, 11:30; Royal Arena, Hannemanns Allé 18-20, Cph S; 280-661kr, ticketmaster.dk
When an American petrol-head placed oversized wheels and a ridiculous suspension on his Ford 5250 pickup truck in 1975, little did he know he would be paving the way to one of the crazes of the 1980s.
And now parents who came of age during that decade can introduce one of their childhood passions to their own kids at the Hot Wheels Monster Truck events, which are taking over Royal Arena on the first weekend of the winter school holiday.
It promises to be non-stop mechanic fury: three epic performances rendered all the more spectacular in the dark.
Let it glow!
The 'Glow Party' is tailored for the whole family to enjoy, but there's an added bonus for monster truck's biggest fans: the Crash Zone Pre-Show Party, which starts 150 minutes before the main shows.
Once showtime arrives, the pyrotechnics and lasers will go into overdrive when the likes of Mega Wrex, Tiger Shark, Boneshaker, Bigfoot and Gunkster enter the arena to perform all manner of stunts.
But it wouldn't be 'Monster Truck' without some 'driveovers'. Enter Megasaurus – the giant, car-eating, fire-breathing, prehistoric robot that loves nothing better than trampling four-wheeled prey.
Check out more events coming up in the winter break in the CPH Post 2023 Winter Holiday supplement.