News
Is that 'Call My Agent? Time will tell whether tonight's premiere of a similar Danish show will result in 'Call My Lawyer'
---
Ahead of its premiere in Berlin tonight, the team behind a new TV comedy about an acting agency, 'Agent', are adamant it is not a Danish version of the acclaimed French show 'Dix Pour Cent'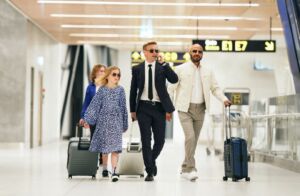 Has the actor Nikolaj Lie Kaas made a Danish version of the acclaimed French series 'Dix Pour Cent' – which in English is known as 'Call My Agent!' – without paying for the rights?
Co-produced by TV2 and Zentropa, 'Agent' is both written and directed by the well-known star of popular series 'Forbrydelsen' and 'Britannia', along with the 'Afdeling Q' films.
Both 'Call My Agent!' and 'Agent' depict an acting agency in transition. In the original version, the founder of the agency dies in the first episode – in the Danish version, Esben Smed's character inherits it from his mother.
In both versions, famous actors play versions of themselves. In the Danish version, the cast includes Nikolaj Coster-Waldau, Ulrich Thomsen, Sidse Babett Knudsen, Dar Salim and Magnus Millang, the cuddly one from 'Druk'.
Creator: this is an original work
Nikolaj Lie Kaas has already stressed that his production is based on a wholly original idea.
"I've always thought that there is great potential for original stories in my industry, and have always been fascinated by people and characters who cannot even see the blatantly wrong choices they make," he said in a statement.
"It's a comedy on top of a drama, for I have been consciously careful not to surrender to pure drama, which is the right way to describe a human being who is falling to pieces. But my mantra is that you should be able to laugh out loud."
PR agency: Same arena, but very different
Likewise, Have Kommunication, which is handling the PR for the series, has stressed the show is not a Danish version of 'Call My Agent!'
"No, it is not," the company's CEO, Michael Feber, told CPH POST this morning. Speaking from Berlin, where the series will make its worldwide premiere at 18:30 as part of the Berlin International Film Festival, he added: "It is an original show."
However, Feber confessed he had never seen the original French version, which first aired in 2014, and sounded concerned when CPH POST informed him that his description of the show's "essence" – "Danish celebrities playing versions of themselves" – would be equally valid of 'Call My Agent!'.
"I'm 99 percent sure it is not a Danish version," he told CPH POST before promising to make further enquiries.
"Nikolaj [Lie Kaas] only became aware of 'Call My Agent! after he had written 'Agent', so there were concerns they might be similar because the arena is the same. But after watching it, he was confident the two are entirely different. If you see it, you'll see it's very different. While 'Call My Agent! is mostly drama with a little comedy, 'Agent' is equal measures comedy and drama," he later clarified.
13 countries paying for the rights to remake it
So far, 'Dix Pour Cent' has spawned a large number of remakes – which is good news for rights owner Netflix, which acquired the show in 2015 and went on to make a fourth season in 2020, with a movie and fifth season due out this year.
The increased exposure, and wider acclaim, encouraged producers from South Korea, India, the Philippines, Malaysia, Indonesia, the UK, Poland, Turkey, Italy, the Czech Republic, Greece, Germany and Spain to all pay the asking price to remake it.
But clearly the Berlin International Film Festival (February 16-26) hasn't smelt a rat, as it has selected 'Agent' for its Berlinale Series.
There's no denying it has a pretty similar name, though.
Other Danish interest
Other Danish films included at Berlinale are Malene Choi's debut 'The Quiet Migration' (Panorama section/Best First Feature Award) and Amalie Maria Nielsen's graduation film 'The Shift,' (Generation Kplus/Teddy Award).
At first glance, the subject matter of 'The Quiet Migration' – the difficulties faced by Korean adoptees in Denmark – does sound similar to 'Return to Seoul', a film currently taking the world by storm with insanely good reviews.
Four other Danish films will premiere: documentaries 'Apolonia, Apolonia' and 'Twice Colonized', and feature films 'Copenhagen Does Not Exist' and 'Superposition'.