Things to do
On Screens for March: Now that the Fawlty Towers blueprint's been ripped up …
---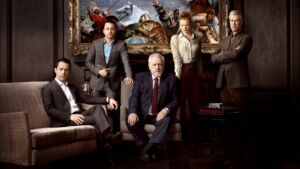 The end of an era … or the exit of a shrewd economist? Should we admire the creators of successful TV shows when they choose to bow out early while still ahead of the game?
Maybe they didn't fancy the hard work anymore. Or feared they couldn't keep it up. Would The Sopranos be remembered with more fondness had it only lasted two seasons? Or The Wire? Surely The Handmaid's Tale? All three are hailed with the proviso that the first two seasons are the best. While the likes of Lost, Game of Thrones and Girls are best remembered for the absolute stinkers they signed off with.
Ricky Gervais, when explaining his decision to end The Office after 14 episodes, cited the example of Fawlty Towers in the 1970s. Twelve flawless episodes … why would you jeopardise your legacy if you weren't feeling it, he reasoned before making Extras, which only consisted of 13 (if only he'd applied the same rationale to Afterlife).
Was Gervais right? Well, the US version of The Office ended up with 188 episodes, but season eight of nine was roundly criticised – the fallout after Steve Carrell left the show. And surely it's only a matter of time before we see David Brent, last wheeled out for a film in 2016, again.
And whisper it isn't true, but John Cleese, now 83, is currently writing a third series of Fawlty Towers – this time with somebody who probably won't divorce him: his daughter Camilla.
So is it smart to call it a day? Or are we all beginning to hate Mindhunter now that it's been confirmed it's never coming back.
Goodbye to the giants
You could argue that Succession (S4; HBO Max; March 27) is coming up short with only four seasons. Make no mistake, it's sublime, but season 3 hoodwinked us with a sequence of glorious locations/events when the truth is that the writing team had run out of ideas – which is criminal when the characters are this brilliant. Tellingly, perhaps, its creator Jesse Armstrong is a Brit, and originally he just wanted to make a film: did he just go with the flow after the second season was so unexpectedly well received?
Equally dominant at the awards over the last two years, but right from the off, has been Ted Lasso (S3; Apple; March 15) – conversely the mirror image of Succession, as it is created by Americans and set in Britain. After three seasons, it is also coming to what many might say is a premature end. A sticky, gooey one, no doubt if you've been lassoed by the ineffable charms of Jason Sudeikis – the nice guy version of him, not the swine who issued his wife with custody papers while she was addressing an audience. Personally, I like to think of it as a relegation.
Luther: The Fallen Sun (Netflix), as the name suggests, will be the last we see of the role that made the industry realise Idris Elba is not from Baltimore, and we can only be hopeful that John Wick: Chapter 4 (March 23), Creed III (74; March 2); Shazam!2: The Fury of the Gods (March 16), Murder Mystery 2 (Netflix; March 31) and Scream 6 (March 30) will be the end of the line as well. Oh, and Dungeons & Dragons: Honor Among Thieves (March 30) too.
The same could also be said about most of the continuing series: You (S4B; March 9), Sex/Life (S2), I am Georgina (S2, TBC) and Riverdale (S7; March 31) on Netflix; and Outlander (S6; March 7), Perry Mason (71; S2; March 7) and Superman & Lois (S3; March 16) on HBO Max.
Last of the Oscar hopefuls
Nobody could accuse Ted Lasso of being more sentimental than Steven Spielberg, a director so inoffensive he would rather give up his most beloved franchise, Indiana Jones, than tell its central star there's a limit to what an 80-year-old can do on horseback. The mystery is why we enjoy bashing these providers of unadulterated joy. The Fabelmans (84; March 23), a semi-autobiographical story based on his childhood, is clearly one of his better works, but it disappeared in the Oscar betting a long ago.
In similar vein, Sam Mendes' latest, Empire of Light (54; March 9) with Olivia Colman, hasn't tugged the heartstrings in the way you might have thought it would, although it got better reviews in the UK than the US. Like Colman, Vicky Krieps (Phantom Thread) might have thought she'd get mainstream award consideration for Corsage (76; March 16), the second onscreen depiction of Empress Elisabeth of Austria following the popular Netflix series The Empress – particularly as the reviews have been good. The acclaim for The Inspection (72; March 9), about a gay man looking for answers in the US Marines, and Knock at the Cabin (63; March 9) has also been good – come on, 63 is one hell of a score for M Night Shyamalan.
Also worthy of your consideration … are The Whale (60), for which Brendan Fraser is the favourite to win the Best Actor Oscar this Sunday for playing a man who weighs 272 kilos – approximately a thousandth of the weight of a blue whale, so it's inaccurately named. Likewise, 65 (Not Released Worldwide; March 16) with Adam Driver is not about a nightclub, but the year 65 million years BC – the date his spaceship crash-lands on Earth.
Finally, why not give Chang can Dunk (Disney+; March 10) a whirl. Just like the protagonist, who defies his height to play basketball for his high school, it's another Asian-American underdog that looks set to conquer all – as in everything, everywhere, if you catch our drift.
Choose Tetris or Roulette
Over on TV land, if you want an outsider to back, try Tetris (Apple; March 31), the story of how the computer game came into being. Taron Egerton, Toby Jones and Ben Miles lead a likeable cast. Failing that, Rain Dogs (82; HBO Max; March 7) is a screwball British comedy that has won acclaim.
Elsewhere, we're spinning the roulette wheel. Climate anthology series Extrapolations (Apple; March 17) will have its fans, but will it be too earnest? The Big Door Prize (Apple; March 29) with Chris O'Dowd, in which a grocery store machine foretells people's destinies, looks too daft, as do Amazon Prime pairing Class of '07 (March 17), when a school reunion gets hit by a tsunami, and The Power (March 31), in which teenage girls wake up one day with the power to electrocute people at will. Daisy Jones and the Six (62; Amazon Prime; March 3) charts the fortunes of an iconic 1970s band, but how much Fleetwood Mac can you take? While The Pimp – No F***ing Fairytale (Amazon Prime; March 3), set in the Hamburg hood of Reeperbahn, looks promising, but will it be too German?
That leaves Swarm (Amazon Prime; March 18), the latest offering from Donald Glover, who certainly didn't overstay his welcome with Atlanta, which he brought to an end after three seasons. Which, of course, has been John Cleese's thinking all along.