News
St Patrick's Day 2023: Feel the shamrock love of the three-legged race!
---
Since its inception over two decades ago, the event has raised nearly 600,000 kroner for charity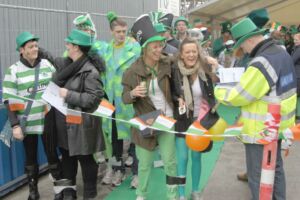 "There's four of us traveling to Copenhagen for the weekend – my husband and I are coming from Oslo while my sister and her boyfriend are flying in from Manchester," Norway-based racer Stephanie Johnston-Pearce told the organisers of the Shamrock Love's 3 Legged Charity Race 2023 upon registering.
"It's my birthday on the 18th so we LOVE making a full celebration of it with St Patrick's Day. We just found out about the 3 Legged Charity Race – so cool and super exciting! We can't wait!"
Oslo, Manchester … clearly word is spreading about the race – a wonderfully wacky way of spending the big day in one of Europe's most charming cities.
Guzzling up the opposition
Johnston-Pearce's team is called the Guinness Guzzlers – one of 75 to so far register via the event's website, which is three-quarters of the permitted allocation, as only 100 pairs will be able to take part.
Also already signed up are last year's winners,  Gentle Ms, who completed the route in 20 minutes 21 seconds, and last year's slowest team, SPS 1, who finished in just under 8 hours!
The organisers last night confirmed to CPH POST there are 25 spots left, but be quick! With this year's event taking place on a Friday, there's bound to be more interest than normal.
No limit on donation size
Pre-race registration costs a minimum of 100 kroner per racer – there is no limit on how much each racer can donate – and must be carried out using MobilePay via 299333.
This could be problematic for anyone hoping to register from abroad, so don't be surprised if Stockholm Seamus, Dublin Dermot or Oslo Orla enlists you into helping them – but bear it in mind there is normally a huge incentive to help them or indeed make a charitable donation of your own (via PayPal, GoFundMe, or bank transfer – learn more at shamrocklove. com/donate).
Thanks to Guinness, all of the donations go to charity, and this year the race will again be dividing the proceeds equally between three children's charities: Danske Hospitalsklovne, Laura Lynn Children's Hospice and CCAFO (Cambodian Children's Advocacy Foundation Organization).
The race has been supporting the charities since 2012, 2015 and 2010 respectively, and ahead of the last race had raised 138,700, 86,700 and 164,700 kroner for them.
Since its inception in 2001, the race has raised over 600,0000 kroner for charity – including 15,000 in 2020, even though the race was cancelled. In 2012, a record 600 racers took part, but the maximum number is now 200.
Five pub pit stops
This year, the race will begin at Kennedy's Irish Bar at 14:00 and head to The Shamrock Inn, Pub & Sport, The Globe and finally The Dubliner.
Racers are advised to head to Kennedy's from around 13:00 to collect their 3LR packs and get their legs will be tied with reusable Velcro leg-ties.
The course is 2.6 km long. After Kennedy's the racers will stop at three more 'pit stops' – The Shamrock Inn, Pub & Sport and The Globe – drinking half a pint at each, before a grandstand finish along Strøget to the finish line at The Dubliner.
At both Kennedy's and The Dubliner, lots of Patrick's Day merchandise will be on sale, including tote bags and all sorts of green garb.
Never forget the blizzard
The principal organiser is Siobhán Kelleher-Petersen, one of the three co-founders of the race, who is the sister of Globe quizmaster John Kelleher.
According to Siobhán, the race has never looked back since becoming a fundraising event in 2007. And perhaps the most memorable race came a year later.
"I always smile when I think of St Patrick's Day 2008, when we woke to a blizzard. I thought it would be a disaster and no-one would turn up," she told CPH POST.
"But when I arrived down at Kennedy's for the registration I saw them coming – over 200 of them! It was so cold, but we had such a blast, and we raised 21,500 kroner for charity, so it was a really great day."
Donations make a difference
Siobhán is particularly looking forward to this year and edging the race's charity donation total closer to 1 million kroner.
"Since 2007, we've raised 600,000 kroner and the racers' donations have been a massive part of that – everyone who enters or donates to Shamrock Love is helping to make a difference," she said.
"For instance, in 2016, our donation was used to build a classroom in southern Cambodia and this year CCAFO needs our help to build another one (will cost around 17,500 kroner). So, whether it's building a classroom in Cambodia or helping support sick children and their families in Denmark and Ireland, all donations matter and we're grateful to everyone."
The rules:
Complete the race entirely on foot.
It's okay to walk – the absolute majority of entrants are doing it for the craic, and very few run at all!
Drink half a pint of beer at each participating pub: so five in total
Get your scorecard stamped as proof at each pub before hobbling on your merry way.
Wear something green
Dress up – there is a prize for the best-dressed team too!
Need to know:
Fri March 17, 14:00, registration online; race starts at Kennedy's Bar, Gammel Kongevej 23, Cph V, race ends with prizes at 16:15 at The Dubliner, Amagertorv 5, Cph K; minimum donation of 200kr per team; shamrocklove.com, paddysday.dk