News
Denmark mid-table in InterNations survey that assesses ease of settling
---
Norway, Finland and Sweden higher up the rankings, but no Nordic supremacy on this occasion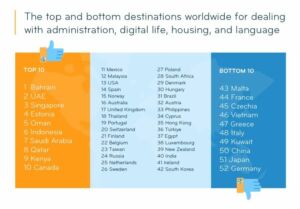 Denmark has finished mid-table in a new InterNations survey that assesses how easy it is for internationals to settle when they move abroad. 
The Expat Essentials Index addresses four key areas of the expats' lives when they resettle: finding housing, dealing with administration, coping with the language, and digital life.
In total, it questioned 11,970 expats representing 177 nationalities in 181 countries, but there were only enough participants (minimum of 50 per country) to include 52 countries in the final results.
Worst in the Nordics
At 29th, Denmark trailed fellow Nordic nations Norway (15), Finland (21) and Sweden (26) – a commendable reversal for Sweden, which tends to fare badly in most InterNations surveys assessing how happy expats are.
Bahrain ranked first, followed by the UAE, Singapore, Estonia, Oman, Indonesia, Saudi Arabia, Qatar, Kenya, and Canada.
Germany ranked bottom, just ahead of Japan, China, Kuwait, Italy, Greece, Vietnam, the Czech Republic, France, and Malta.