News
Minister eyes war crime shake-up in Denmark
---
Current legislation does not specifically criminalise international felonies such as war crimes – and this needs to change, contends government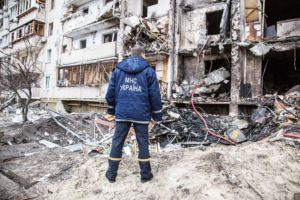 The government supports the criminalisation of international felonies such as war crimes in Danish law, confirms the justice minister, Peter Hummelgaard, in a statement.
Hitherto Denmark has been one of only two European countries – the other is Italy – to not separately criminalise international crimes, and this needs to be changed, asserts Hummelgaard.
The minister is acting on a resolution proposal brought forward by SF in late February, which will be presented to Parliament today.
The anticipated change in law would enable, for example, Ukrainians to report war crimes to the police in Denmark, and for the police to then act on them. Currently, this jurisdiction falls under the International Criminal Court.
READ ALSO: Denmark a step closer to donating fighter-jets, but Ukrainian pilots would need training first
Should send out a strong signal
Should the motion be supported by Parliament, Hummelgaard intends to set up a legislative committee to investigate how war crimes can technically be added to the Criminal Code.
The committee will assess whether the penalty for war crimes should be higher than the current provisions for offences such as murder and torture, according to Danish law.
"War crimes are already illegal according to Danish criminal law; they are not written as specific provisions in the penal code, but all acts that are war crimes are punishable," explained Hummelgaard.
"But SF raised an important point that the time has now also come for us to introduce an independent criminalisation of war crimes. I think that will send an important signal to the outside world and not least to the victims."
Hummelgaard has changed his tune since February 23, when he denied there were loopholes in the legislation, contending that Denmark was not a "haven for war criminals".