News
Denmark saved big on gas this winter
---
Despite this winter being colder than last year, natural gas consumption was down by 24 percent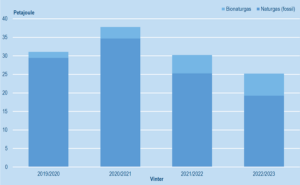 As winter approached in 2022, the government appealed to the public to conserve energy as the War in Ukraine presented an uncertain future for European gas stockpiles.
The public, it appears, listened.
According to new figures from Danmarks Statistik, public consumption of natural gas this winter was at 6 petajoules – a 24 percent decrease compared to the winter of 2021-22.
The news comes despite this winter being 0.4 degrees colder than the previous winter.
"Natural gas consumption is highly dependent on temperatures, so it's typically higher in the winter. The decrease in consumption is so immense that people must have saved on heating and used other energy sources to heat up homes," said Danmarks Statistik spokesperson Thomas Eisler.
READ ALSO: Denmark has significantly curtailed its energy consumption
Win for the wallet
Of course, there was also a financial incentive for the public to save on natural gas use.
During the winter months this year, the price of bio and natural gas has been substantially higher than the previous winter.
In December 2022, the price of natural gas was almost 40 percent higher than it was in December 2021.
Denmark consumed most natural gas in week 50 of 2022, which was just before Christmas – the only week this winter that had higher consumption compared to last winter.
The lowest week of consumption was the week between Christmas and New Year's Eve – consumption was under a third of what it was in week 50.