News
Copenhagen incoming: did somebody mention thundersnow?
---
It sounds like an AC/DC album, but the curious weather phenomenon is likely to strike the capital today between 18:00 and 19:00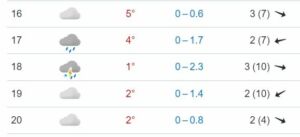 Four seasons will hit Copenhagen this afternoon with sun, sleet, snow and rain all on the agenda! Exactly how much precipitation will fall is in the lap of the gods, and it is not expected to be particularly windy.
However, it does look like the capital might be in store for a rare phenomenon: some thundersnow. This is caused by the sudden arrival of cooler air, which pushes warm air skywards, and usually involves much lower clouds than normal, which somewhat muffle the thunder and lightning effect.
Significantly, temperatures are expected to suddenly fall at around 17:30 today, and for the mini thundersnow event to take place in Copenhagen between 18:00 and 19:00.
Chilly last night
Last night, thermometers in Horsens in east Jutland sank to minus 6.5 – a signal that winter is far from over in Denmark.
Further afield from the capital, snow showers are expected in both northern Zealand and western Jutland. As well as snow, sleet and rain, some 'snow hail' is also forecast. 
Wind speeds will be low across the country, with the exception of the Wadden Sea coastline, where gale-force gusts are expected.