News
One in five parents gave children painkillers before sending them to school – survey
---
KU professor criticises selfish behaviour that helps to spread viruses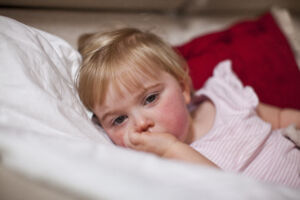 A survey carried out by Megafon for TV2 has found that 71 percent of parents have handed over children to daycare in spite of them being sick.
Moreover, 21 percent of those surveyed admitted to medicating their kids with paracetamol, such as Panodil, before sending them to school.
The FOLA parents' organisation is shocked by the findings.
"I think it is absolutely crazy. It simply cannot be that a child goes to school sick and plays with lots of other children. Then we are faced with the fact that they will infect the whole institution," said FOLA chair Signe Nielsen.
Pill pushers
At the Børnehuset daycare institution in Silkeborg a meeting was called where parents were implored not to bring their sick children to school.
At Børnehuset there are fears that parents prefer to pack their kids off with a pill without informing teachers.
"We occasionally have children who that they have had a pill for breakfast," said headteacher Susanne Bødker. "You might think that it is a Panodil more than a vitamin pill, if it is a child who has just been sick, for example."
Parents sick and tired
Parents, when confronted, often cite pressure at work as a reason for not being able to stay at home with their children.
Many declare that they simply cannot take another day off, as they are afraid of being fired.
Allan Randrup Thomsen, a professor of virology at KU, has heavily criticised the parents' actions, describing the current situation as a "vicious circle".
"It promotes the spread of viruses, and it adds momentum to a cycle where parents are pressured by high levels of sick-leave. If they then choose to send the children to daycare while they are still recovering, they keep the epidemic going in daycares, and this in turn puts a greater burden on the parents."