News
Organic eggs safe to eat again, but PFAS tests continue
---
While tests have shown considerably lower levels of the chemical in our breakfast, there is concern about its presence in nature areas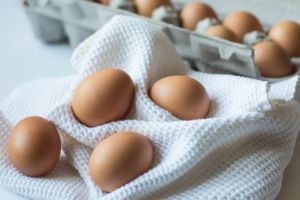 Children aged four to nine can once again eat organic eggs in safety, according to a press release by Fødevarestyrelsen.
The Ministry of Food, Agriculture and Fisheries of Denmark (Fødevarestyrelsen) conducted a test which showed that PFAS levels in organic eggs have returned to negligible levels.
Eggs from ten different sources were tested: in eight no PFAS at all was found, while in the two containing PFAS, the levels of the chemical were so low that they were considered safe to consume.
This winter, elevated levels of PFAS in organic eggs were linked to fishmeal, which is used as feed for egg-laying hens. Farmers reacted quickly by stopping the use of fishmeal, and PFAS levels in eggs have subsequently plummeted.
Further PFAS tests
In other news, the Danish Nature Agency (Naturstyrelsen) has announced its intention to conduct random tests for PFAS in several of the country's nature areas.
The samples should provide an overview of the potential presence of PFAS in grass and water areas close to the sea.
Previous research has indicated that PFAS tends to be found in higher concentrations on west-facing shorelines, as opposed to east-facing coasts.
Therefore the locations, which are 60 in number, will be dotted around the western coasts of both Zealand and Jutland.