News
Inside Danish Sport: Superliga title race neck-and-neck
---
With the deciding part of the season upon us, it's no coincidence that Denmark's top talent producers are battling for glory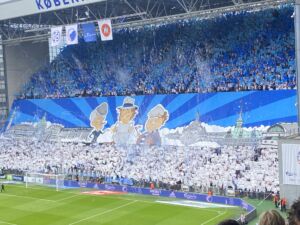 With six games remaining, the Danish Superliga is entering its final stretch following an intriguing season.
In the wake of a difficult first half of the season, reigning champions FC Copenhagen (FCK) have laboured their way up to top the table and currently sit just two points ahead of upstarts FC Nordsjælland (FCN).
With usual title challenger suspects FC Midtjylland and Brøndby both faltering this year, FCN has taken everyone by surprise this season – an impressive feat given that they're the youngest team in the world with an average age of just 22.31.
FCN led the league for almost the entire season, but missed opportunities recently has allowed the Lions to catch up. Meanwhile, Viborg has also exceeded expectations, sitting third just six points behind the leaders.
Interestingly, the title race has spilled over to the Danish Cup, with FCK and FCN clashing in the semi-finals – the first leg in Farum on Wednesday and the return match in Parken on May 4.
Young guns as head coaches
While FCK have a stronger financial position than any opponent in Denmark, one thing unites the two teams vying for the title. Both clubs are led by newly-appointed young coaches.
Jacob Neestrup, 35, took over the FCK team in October and helped turn the club around during a time of crisis – with 11 wins and just one defeat in his first 16 games, Neestrup is off to a fine start.
Meanwhile, Johannes Hoff Thorup took over the reins at FCN in January, but the 34-year-old has only managed three three wins in his first nine matches.
FCN play at home on artificial grass in Farum, where they put the opponents under intense pressure with a fast, passing-based game.
That worked well during the first half of the season, but since the team sold 18-year-old Norwegian top scorer Andreas Schjelderup to Benfica over the winter break, the squad has found it difficult to find his replacement.
That's despite Emiliano Marcondes being loaned from Bournemouth and young striker Wahid Faghir brought in from Stuttgart.
A melting pot of talent
As a club, FCN has been lauded for its impressive talent development, not least of players with an African background. Young players join the team early and the best are sold for huge sums to bigger leagues.
Aside from Schjelderup to Benfica, big deals have included Kamaldeen Suleimana to Rennes, Muhammed Kudus to Ajax, Mikkel Damsgaard and Andreas Skov Olsen to Italian clubs and Simon Adingra to Brighton in recent years.
Talent scouts and club managers all over Europe follow FCN's talent work. Earlier this month, the club's U17 team beat Chelsea, Juventus, PSG and Ajax on the way to winning the prestigious Ajax Future Cup tournament in the Netherlands.
Currently, defender Adama Naghalo and striker Ernest Nuamah are considered the next top prospects ready to make big-money moves to bigger leagues. The pair, along with with midfielders Mads Bidstrup and Mohammed Diomande, are decisive to FCN's title bid.
Meanwhile in Copenhagen, FCK has really turned things around since the arrival of Neestrup.
Despite serious injuries to several key players the Lions have got Parken rocking with an average of 28,000 spectators (new record if they can hold it for three more home games) per match.
The Ajax-loaned winger Mohamed Daramy has been decisive in several matches, while full-back Elias Jelert and Icelandic midfielder Hakon Haraldsson prove that FCK has become just as adept as FCN in terms of churning out talent.
Viktor Kristiansen, who came through the FCK academy was sold to Leicester City for over 100 million kroner recently and the team's Under-17 and Under-19 squads both won the Danish title last year.
Right now: FCK has a slight edge
So, who wins come early June when the season ends?
No team in Denmark can flex financial muscles like FCK and the club is always considered a favorite to the title. But based on recent matches, neither team is in top form.
FCK have numerous key players on the injury list – captain Carlos Zeca and stalwart defenders Nicolai Boilesen and David Khocholava are all out for the season, while expensive Denmark striker Andreas Cornelius has returned to his injury-prone ways since being signed over the winter break.
But FCN have not won away from home since October and team must find goals from somewhere in order to have a chance at their second title.
A potential decider could come on May 8, when the two teams clash in Farum. As it stands, FCK must be considered favorites due to their experience and Polish keeper Kamil Grabara's ability to pull off big saves.
But FCK also have two tough games coming up against their arch nemisis Brøndby.
Although the Boys from the Western Suburbs are struggling as of late, the Copenhagen Derby is always a game that is up for grabs.
In short, it's anyone's guess who will lift the title trophy on June 4.