News
Youth party organisation: High profile MP is far from reality
---
The debate on Moderaterne MP Jon Stephensen rages on as Unge Moderater reacts to his desire to return to politics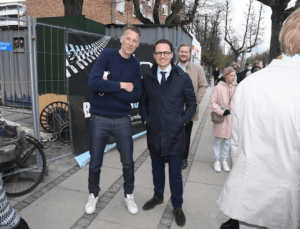 "It is as far from reality as it can be when he is already talking about a return to politics", Max Manøe Bjerregaard, Unge Moderater, told Berlingske newspaper.
Jon Stephensen is under heavy scrutiny following Sunday's revelations that the 63-year-old MP sent an inappropriate message to a 19-year-old female member of the youth party in February. 
The statement from the youth organisation comes after Stephensen's party leader Lars Løkke Rasmussen, the foreign minister, said in a video on Facebook that the high-profile MP would not be kicked ousted by the party, but rather take an extended leave. 
Things heated up again Tuesday after Rasmussen's statement. More than 1,000 people from the Danish cultural scene expressed their distrust of Stephensen, Rasmussen and the rest of the party's leadership in an open letter.
The former manager of Aveny Teatret in Frederiksberg, has been widely criticised in recent months for other issues and musician Pernille Rosendahl, who signed the letter herself, told TV 2 that "the right thing to do would be to say that Stephensen is a thing of the past in Danish politics."
READ ALSO: Accused #MeToo politician Jon Stephensen to take extended leave
Wants to restore trust 
Stephensen has himself commented on Sunday's revelations about his message to the 19-year-old woman, in which he wrote that she "is beautiful with the most delicious body".
In an email to newsagency Ritzau, Stephensen apologised to the party and the 19-year-old woman. 
He also emphasised that his political ambitions are intact.
"I will therefore spend the coming time and months looking inward to become the version of myself required to return healed, strengthened and to restore trust in the voters, my party the Moderates and my fellow party members," he wrote.
For the government the case is tricky. There are 179 mandates in Parliament, four of which are elected in the North Atlantic (Greenland and the Faroe Islands).
While the government will not be in the minority if a mandate – Stephensen, for instance – leaves the coalition, life will certainly become more difficult. 
In his Facebook video Rasmussen commented that excluding Stephensen now would constitute an overreaction.