Things to do
May the fourth be with these brave high-wire walkers
---
Stunning spectacle at Copenhagen Harbour will treat public to a once-in-a-lifetime experience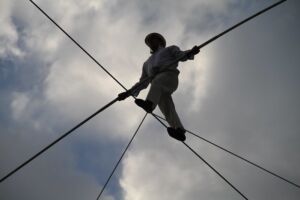 Tight-rope walkers at the circus are one thing, but they enter the realm of the spectacular when they bring their craft to popular landmarks – like Philippe Petit, the madman who famously walked between the Twin Towers in 1974.
Well, the petit pois of the French legend are descending upon the Danish capital on May 4 to give the public a once-in-a-lifetime experience outside the Danish Architecture Center at Copenhagen Harbour.
Make sure you arrive early!
A series of walkers will traverse a 160-metre high-wire across Copenhagen Harbour at a height of 15 metres. The wire will take them from DAC to the old sugar factory directly across the water.
Starting at 16:00, the one-hour spectacle is being organised to mark the start of Copenhagen's official term as the UNESCO Capital of Architecture for 2023.
Spectator stands will be erected outside BLOX and also on the Christianshavn side of the harbour, so get there early to guarantee a good seat and to watch them practise!
Try it out yourself!
Starting from 15:30 in the surrounding area, and lasting until 20:00, there will be various free activities to mark the occasion, including the chance to try high-wire walking yourself – but at a height closer to 1.5 metres!
The day will also serve as a promo for the new DAC exhibition 'Copenhagen in Common' – offering fascinating insights into the capital's various communities – which will run from May 5 until October 22.