Things to do
This week in Copenhagen: Welcome to the month of M(IPA)Y
---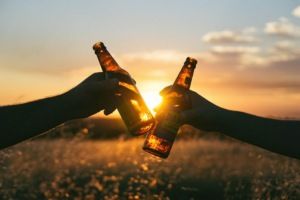 CPH Beer Week
May 5-13; various breweries, restaurants and bars in Copenhagen; cphbw.dk
Copenhagen's breweries will shine in May! For the fourth edition of CPH Beer Week, get ready for some experiences with beer that you'll remember for a loooong time!
Highline show at Copenhagen Harbour
May 4, 16:00; DAC's terrace, Bryghuspladsen 10, Cph K; dac.dk
May the fourth be with you … and these highline performers! In line with Copenhagen being named 2023 UNESCO Capital of Architecture, everyone is welcome to watch these professional artists walking on a highline at a height of 15 metres. The 160 metre-long highline will cross the harbour from the Danish Architecture Center's terrace to the sugar factory on the other side. A spectacular show for sure!
Adventure Festival
May 5-7; Refshalevej 325, Cph K; 275kr for the three days; adventuroussouls.net
Explore all the adventures that inspire you! Together, let's discover what adventure means to you and take part in a large range of activities and exhibitions over the weekend. Get ready to release some adrenaline!
Culture Electrocution – stand-up comedy in English
May 1, 19:00-22:00 (open at 18:00); No Stress Bar, Nørregade 26, Cph K; 90-150kr; eventbrite.com
Brazilian-American comedian Gus Horn brings his new show 'Culture Electrocution' to Copenhagen for the first time. One night only, don't miss it!
Card Magic Sessions
Every Friday from May 5, 21:00; Steel House Copenhagen, Herholdtsgade 6, Cph K; free adm; eventbrite.com
During this session, Augusto Amen will do an exhibition of card magic in a beautiful, simple and relaxing manner, creating moments that are impossible to explain. Come and dive into Augusto's world of card magic.
Macklemore – The BEN Tour
May 7, 20:00; VEGA, Enghavevej 40, Cph V; 407-810kr; songkick.com
Rapper Macklemore's collaborative outfit with producer Ryan Lewis made them one of the hottest musical acts of 2014.
Wednesday Jazz in Tivoli
Every Wednesday from May 3, 19:00, 20:00 & 21:00; Tivoli, Vesterbrogade, Cph V; free adm with park access; visitcopenhagen.com
Experience some of Denmark's best current jazz performers at the Tivoli Orangery. Each month they tackle a new theme, such as Jazz with a Sense of Place, Grooves, Blues & Ballads or Jazz-a-nova. The performers will be backed by the Tivoli Ensemble and conductor Peter Jensen.
Nordic Race – Copenhagen Beach
May 6; Amager Strandpark, Cph S; 550-900kr; nordicrace.dk
An obstacle course racing event! Tyre runs, barbed wire, monkey bars, and hurdles are just some of the things you can meet on your way through the course. It's a good course for first-timers, but experienced runners can expect to be challenged as well. Spectators can expect to enjoy DJ sets for all the events.
BNXN
May 2, 21:00-23:00; Pumpehuset, Studiestræde, Cph K; 295; allevents.in
Award-winning Nigerian singer BNXN, a hip-hop and rap specialist, is here in Copenhagen!
ARTIVAL – IMMART
May 22-28; URBAN13, Bispeengen 20, Cph N; free adm; immart.dk
ARTIVAL is a multilingual culture festival taking place across the Nordic region in 2023. It is about bringing people and places together, creating meaningful and enriching experiences, and gaining a clearer understanding of different processes, perspectives, and viewpoints that exist in local artscapes.
CPH Marathon
May 14; Islands Brygge, Cph S; entry 775kr; copenhagenmarathon.dk
Join 100,000 spectators and cheer on the runners in the race.
48TIMER Festival
May 12-14; Nørrebro, Cph N; 48timerfestival.dk
Enjoy some cultural life with the locals in Nørrebro! At this annual 48-hour festival, the district will make room for concerts, street parties, exhibitions and other events.
Bloom Festival
May 26-28; Søndermarken, Frederiksberg; bloom.ooo
Celebrate science together! Researchers will share their thoughts in live debates, while you get to experience life in the laboratory and enjoy a few concerts. If you thought science was boring, you might change your opinion after this weekend!
Eros Ramazzoti
May 4, 21:00-23:00; Royal Arena, Hannemanns Allé, Cph S; 490-773kr; ramazzotti.com
His songs have marked the history of Italian music and have been heard all over the world.
Ice Nine Kills
May 1, 21:00-23:00; Pumpehuset, Studiestræde 52, Cph K; 295kr; iceninekills.com
Ice Nine Kills is an American metalcore band from Boston, Massachusetts. They will be in Copenhagen for one night!
Anson Seabra
May 7, 20:00-23:00; Musikkens Hus, Lille VEGA , Cph V; 190kr; ansonseabra.com
An emotive singer-songwriter, Anson Seabra makes artfully crafted and philosophical, piano-driven pop. He emerged online in 2018 and garnered a strong social media fan base with songs like 'Broken' and 'Emerald Eyes'.
Two sides of Copenhagen
Sunday 7, 15:30-17:30; the Rosenborg castle, Cph K; free adm; meetup.com
A story about two different sides of Copenhagen: nobles and the poor, war and love, and building and destroying. This great story will be told by Jane Engelund, a qualified guide, who knows the city through and through.
Cycle ride to Stevns Klint
May 6-7, Sat 09:30 to Sun 18:30; Køge train station; free adm; meetup.com
Expect around 80 km on day one when you ride down the coastline to visit Stevns Klint, a UNESCO World Heritage site. Then you will head to Faksinge forest camp in Præstø where there are two shelters with a grill for a deserved dinner. On Day 2 ride back to Køge. Bring food (for camping and the ride), sleeping bag, air mattress etc.
Copenhagen English Comedy Evening!
May 5, 20:00-22:00; The Dispensary, Nørrebrogade, Cph N ; 135kr; meetup.com
On stage: Martin Angolo, an award-winning Irish comedian who is a regular at comedy clubs and festivals all over Ireland, the UK, Europe and the United States. And Edo Berger, a big man-hug of funny. Edo is a winner of several Dutch comedy festivals and his performances have brought him to Moscow, Budapest, Oslo, Edinburgh and Tokyo, among others.
Swap Language Nights
May 1, 19:00-22:00; Generator Copenhagen, Adelgade, Cph K; free adm; meetup.com
Learn to speak the language of the locals. Right now, you can learn Danish online (swaplanguage.com).