Things to do
This Week in Copenhagen: Candlelight concerts, Christiania escapades and … Corrosion of Conformity
---
Live musicians performing in some of the most iconic venues in Copenhagen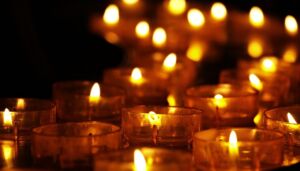 Candlelight Concerts
May 13 & 27, Odd Fellow Palace, Bredgade, Cph K; 339-399kr, feverup.com
Enjoy a host of concerts illuminated by candlelight at iconic venues in Copenhagen. Candlelight concerts bring the magic of a live, multi-sensory musical experience to awe-inspiring locations never before used for this purpose.
Lunarati album release Concert
May 12, 19:30-21:00; PH Pianos, Bredgade, Cph K; free adm; eventbrite.com
An intimate and cosy evening of music and atmosphere, with the opportunity to drink a glass of wine in the beautiful showroom of PH Pianos. Dan and Christine have performed hundreds of classical concerts together over the last decade in North America and Europe, and they will be performing shows that include their own original music and improvisations, as well as re-imaginations of poignant and beautiful music across many genres.
Outdoor escape game at Christiania
24/7; Prinsessegade, Cph K; free add; questoapp.com
Be the main characters in a movie and experience everything in first person! Fun dialogue, intrigue, and unexpected interactions are guaranteed. Try out a city exploration game in Christiania, the independent commune within Copenhagen. Follow clues and solve puzzles to unlock stories in the iconic downtown.
Rooftop music: Arthus Fochi
May 13, 19:15-22:00; Zoku Copenhagen, Amagerfælledvej, Cph S; free adm; eventbrite.com
Spring has sprung and there's no better way to enjoy it than getting comfy on a rooftop couch at Zoku Copenhagen, grabbing a drink and enjoying live music by Arthus Fochi, a composer and singer from Rio de Janeiro, Brazil.
Corrosion of Conformity
May 8, 21:00-23:00; Pumpehuset; Cph V; 255kr; corrosionofconformity.com
Corrosion of Conformity is a heavy metal band from Raleigh, North Carolina. Their music offers a unique blend of heavy riffs with a Southern rock melody.
De la Parra & Ravel
May 11, 19:30; DR Koncerthuset, Ørestads Boulevard, Cph S; 290-580kr; drkoncerthuset.dk
Popular Mexican conductor Alondra de la Parra presents colourful French masterpieces by Ravel and Debussy alongside the premiere of Li-Ying Wu's new work 'Flamboyer' for a percussion and symphony orchestra.
Musikfestdage i Diamanten
Friday 12, 16:00-22:00; Den Sorte Diamant, Søren Kierkegaards, Cph S; free adm; allevents.in
Choose and compose your own program among a smorgasbord of small concerts, talks, workshops and much more for both children and adults. The artists include established Danish and international ensembles, such as Trio con Brio Copenhagen and the Fauré Quartet from Germany, as well as musicians from the US like the banjo player Noam Pikelny.
The Comedy Store
May 13, 21:00-23:00; Bremen Teater, Nyropsgade, Cph V; 195kr; allevents.in
The world-renowned comedy club from London is returning to Denmark! On the stage: Finlay Christie, Sally-Anne Hayward and Stephen Grant. The MC of the night is Jefferson Bond.
DR Pigekoret!
May 13, 20:00 & May 14, 20:00; DR Koncerthuset, Ørestads Boulevard, Cph S; 250-450kr; drkoncerthuset.dk
DR Pigekoret will perform inspiring and experimental interaction with singers and musicians selected from many corners of the Danish music scene.
Barbara Moleko
May 14, 21:00-23:00; Gamle Scene, Kongens Nytorv, Cph K; 395kr; allevents.in
Danish singer-songwriter Barbara Moleko is especially known for R&B. Moleko, who spent her younger years in Mozambique, hasn't looked back since releasing her critically acclaimed debut studio album 'Lykken er…' in 2012.
CPH Beer Week
ongoing, ends May 13; various breweries, restaurants and bars in Copenhagen; cphbw.dk
Copenhagen's breweries will shine in May! For the fourth edition of CPH Beer Week, get ready for some experiences with beer that you'll remember for a loooong time!
CPH Marathon
May 14; Islands Brygge, Cph S; entry 775kr; copenhagenmarathon.dk
Join 100,000 spectators and cheer on the runners in the race.
48TIMER Festival
May 12-14; Nørrebro, Cph N; 48timerfestival.dk
Enjoy some cultural life with the locals in Nørrebro! At this annual 48-hour festival, the district will make room for concerts, street parties, exhibitions and other events.
Styling event – Silfen x Fjong
May 11, 17:00-19:00; Bryghusgade 8, Cph S; free adm; eventbrite.com
The chance to try the finest styles from FJONG's rental wardrobe and match them with a bag from SILFEN. Drinks, snacks and presentations as well as goodie bags will be offered to all guests.
Marco's menu and music
May 9, 17:30-22:30; Kitchen Collective, Slagtehusgade, Cph V ; 80-550kr ; allevents.in
The chef behind Evoo is Marco Maccarini. He was born and raised in Italy and trained as a chef in Parma. He then moved to Copenhagen where his career really took off. Before enjoying Sam Ghezzi & Fabian Lauridsen in action, you will be served a fantastic four-course Italian set menu.
Migrantour
May 11, 15:30-20:00; Union, Nørre allé, Cph N; free adm; facebook.com
Don't miss the chance to take this opportunity to learn about migration experiences and alternative sustainable fashion stores. This is certainly a powerful food for thought event, featuring sustainability expert, while dinner will include foods from all over the world.
Sustainable innovation camp 2023
May 9-11; Frederiksberg campus, Dyrlægevej, Frederiksberg; free adm; facebook.com
A three-day intensive Sustainable Innovation Camp at KU to learn SDG implementation theory with the possibility to apply it to real-life business cases in a collaborative setting.
The Pessimist's Pub Quiz
May 18, 20:20; No Stress Bar, Nørregade, Cph K; 90-130kr; facebook.com
A darkly twisted comedy show that is part stand-up, part actual pub quiz. This is a show that takes the fruits of our anxieties about technology, climate, war, mental health and death, and bakes it all up into a huge, hilarious, apocalyptic pie, serving up hot slices of humour for you to gobble down. It also provides you the opportunity to get involved and win prizes, as you and your team battle against the others to be crowned the smartest people in the room.
Yoga on Amager Strand
Every Monday in June, 18:00-19:15, Amager Strandpark, Cph S; 100kr; facebook.com
An open-level yoga class taught in English to experience the benefits of yoga for your body, mind and soul. Be guided through an energising flow for immersing into conscious movement and breath. Bring your own yoga mat, warm comfy clothes in layers and maybe a blanket for the end of class.
Explore the hidden Vesterbro on a Pop-up Tour
May 9, 17:00-19:00; Jernbanecafeen, Reventlowsgade, Cph V; 125kr, meetup.com
Vesterbro is one of the most exciting districts of Copenhagen. It has always been a lively social scene, but has gone from being the home of factories and poor working families, to now being very popular with students, artists – and just about anybody else!
Copenhagen Secret Courtyards
May 12, 17:00-19:00; Rundetårn, Købmagergade, Cph K; 225kr; meetup.com
Explore Copenhagen courtyards. Visit cosy corners of the city and experience hygge, find traces of the old city, observe details, you haven't noticed before, and listen to stories about the courtyards and the noble people who lived there and more.
15km run/jog/walk + lunch
May 14, 10:00-14:30; Sydvestpynten, Kalvebodvej, Dragør; 75kr ; meetup.com
May is a beautiful month to be outside. Lunch will be served at the meeting point following the trail.