News
Copenhagen Marathon to disrupt traffic this Sunday
---
Many roads will be cordoned off from the early morning to late afternoon, impacting both motorists and cyclists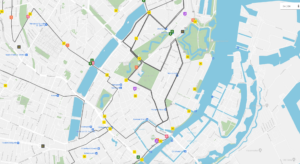 Avoid visiting the capital by car this Sunday, as large areas will be cordoned off due to the running of the Copenhagen Marathon.
Frederiksberg will not be as badly affected as Copenhagen. Most likely, its roads will reopen to normal traffic by 13:30.
Cyclists too
Cyclists are also advised to check their routes before travelling between 07:00 and 16:30, as they might be required to take huge detours or wait for a long time to cross the course of the race.
The 'Cykelslangen Route' passing by Fisketorvet and Dybbølsbro will be closed for the duration, as well as Lille Langebro.
A top tip, therefore, for travelling from Amager into the centre is to take Langebro, as the race passes under the bridge.
Best advised to check … or get the Metro
Extra parking restrictions will be in place, and all visitors to the centre are advised to check this map before they travel.
For the most part, public transport will run as normal, with most buses taking alternative routes when necessary.