News
Defence minister Ellemann-Jensen to return from sick leave on August 1
---
In a statement on social media today, the Venstre boss revealed that he aims to be back in the saddle on August 1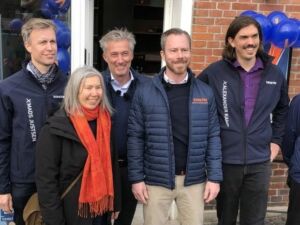 The Defence Ministry has a lot going on these days. The War in Ukraine, a massive and costly revamp of the Danish forces, and a military in dire need of recruitment are but a few of the tasks requiring urgent attention.
So it's been more than a small inconvenience that the defence minister, Jakob Ellemann-Jensen, went on stress leave in early February. 
But there was good news for the government this morning, as it emerged that Ellemann-Jensen will return from sick leave in the coming months.
"I can tell you that I am determined to return as head of Venstre, defence minister and deputy PM," Ellemann-Jensen wrote on Facebook.
"After consultations with my doctors and psychologists, I've decided to return on August 1, when the new political season commences."
READ ALSO: Defence minister on leave following health scare
Nosedived in polls
Venstre will likely breathe a sigh of relief at the news – particularly given the party's poor performance in the recent General Election and even worse showing in subsequent polls, in which three parties have overtaken it to place it fifth in Denmark.
Support nosedived after Ellemann-Jensen decided to team up with PM Mette Frederiksen (Socialdemokraterne) and Lars Løkke Rasmussen (Moderaterne) in a historic government across the middle.
The party is in rough seas at the moment and it will need Ellemann-Jensen's guidance to take it back into calmer waters. Clearly, internal strife must be settled. 
In Troels he trusts
Troels Lund Poulsen filled in as interim defence minister after Ellemann-Jensen stepped away with stress, while Stephanie Lose replaced Poulsen as interim economy minister.
According to Ellemann-Jensen, the pair have done a fine job.
"Along with Stephanie Lose, Troels has managed a huge task. It has given me peace of mind and I appreciate that. They are a fantastic team to have behind you," said Ellemann-Jensen.
Poulsen will need his party head's confidence in the coming weeks, when the government presents its defence settlement proposal.