Things to do
Hot Tickets: Escaping unrest, he found inner-peace in burlesque
---
This week's edition previews a wide range of shows, exhibitions, concerts and city tours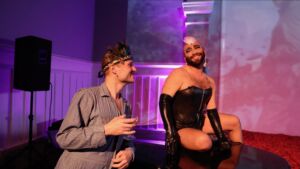 Sunscreen, shades and some tickets – your starter pack for an exciting spring in Copenhagen.
As you walk or bike through this city, its parks, streets, and harbours will seem slightly more crowded, as more people venture out.
But before you join them, sit down with a coffee, chai or bubble tea, and plan a wonderful week in this happening city.
Read on to find out about exhilarating concerts, art shows, stand-up comedy, queer cabaret and city tours.
Showstoppers: Amidst unrest, he found burlesque
Buckle down for a fun, wild and rousing cabaret. Based on a true story, The Disappeared (LiteraturHaus, May 18-June 24, 195kr) narrates the account of a Chilean burlesque performer forced to leave his homeland during a coup who then journeys to Denmark via Mexico. Join Nova Duh on a rollercoaster of joy and artistic expression. According to the creators, the act is suitable for adults only. Directed and written by Jeremy M Thomas and produced by Down the Rabbit Hole, the May 18 performance is a world premiere.
Just down the streets, If these walls could talk (Lygten Station, May 20, 80kr) could be a fun night out. The English improv comedy show promises an impromptu and entertaining experience. Award-winning improvisers Adrian Mackinder and Sarah McGillion will create different characters and sketches on the spot according to the audience's suggestions.
Face the music
If you want to be swooned by music in a Nordic way, Mogens Dahl's Chamber Choir (Christian's Church, May 16, 315kr) will assemble 40 classically-trained singers from all over the region. The musical ensemble merges riveting music with visual arts that light up the venue – for instance, one of their songs is about the value of light in the Nordic latitudes.
However, if you are more into trance music with extraordinary visual effects, how about heating up the dancefloor at the Ice Event (KB Hallen, May 27, 385kr), a seven-hour-long party where you'll dance to the beats of acts like Berg, Major7, X-noiZe and Second Sun.
Before your dopamine levels drop after this heavy performance, spike them up again with Scott Bradlee's Post Modern Jukebox (Koncertsalen Tivoli, May 15, 365kr), a travelling show from New York that performs modern classics in a way that makes them sound like they were released in the 1920s. Gear up for some interesting and bizarre combinations, such as a tap-dancing version of the Super Mario theme or Haddaway's 'What Is Love' performed with a brass band backing and swing drums?
And don't forget to check internet forums for tickets to see six-time Grammy winner Peter Gabriel (Copenhagen's Royal Arena, May 30, 540kr). The British musician, singer, and songwriter rose to fame with Genesis, before going solo with breakout single 'Solsbury Hill'.
Art for art's sake
If you want to experience Copenhagen's spring artistically, Refik Anadol's Nature Dreams (Arken, May 4-Aug 8, 140kr) brings you compelling digital artwork. Imagine captivating digital images of various flowers and plants spread across a room where the floor appears to mirror a body of water. Creator Refik Anadol, a Turkish artist based in New York, is one of the most trending artists globally in digital art. This, his first show in Denmark, raises significant questions about the role of AI in future human existence.
Staying at Arken, Hydra (May 5-Sep 10, 140kr) by Denmark's leading visual artist, Eva Steen Christensen connects you with pressing issues through unique and innovative sculpture art using discarded or second-hand clothes. One of the pieces is made from nylon stockings! Don't miss this important commentary on society's fixed perspectives on diversity, gender and climate.
Hitting the road
Are you looking for a light-hearted, cheeky and funny city tour? Kinky Copenhagen (Bishop's Square, May 25-Aug 3, 140kr) is a unique city tour on May 25, where you can take a loved one on a walk to discover both romantic and kinky history. The exhibition will take you through alleys and streets where you can hear about secret love stories and hidden affairs among Copenhageners. For instance, you will hear about royal love affairs, old love letters, sumptuous weddings, and high-end prostitutes. It's a chance to look behind the curtains and find out the city's dirty secrets.
Or meet Copenhageners on the Twilight Trip (Bishop's Square, May 17-Aug 16, 140kr) and encounter the Prince of Darkness. You can visit one of the city's most haunted farms and hear stories from the locals. Learn about the werewolf that terrorised 19th century Denmark, the Danish black art books, and occultist Ben Kadosh. Dark and dingy tales await your every turn.