News
Maintenance, not strike action, to blame for cessation of Metro services to airport on heavy travel day
---
Passengers on flights leaving before 09:00 are advised to seek alternative ways of getting to Kastrup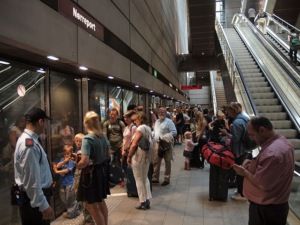 According to current schedules, Metro trains will not be running to Copenhagen Airport before 06:00 tomorrow morning – bad news for the thousands of people booked on flights leaving before 09:00 out of the 80,000 expected to use the terminus on the Thursday bank holiday.
Copenhagen Metro's press officer, Nete Engbo Kamper, confirmed to CPH POST that the termination of services is not due to industrial action. 
"Metro trains will not be in service due to maintenance," he confirmed. 
The Ascension holiday weekend is always popular with holiday-makers. A further 90,000 are expected to pass through the airport on Sunday – the most this year. 
Worried bus will be packed
Muhammad Faisal, a resident of Copenhagen travelling to Spain tomorrow at 08:00, is one of thousands worried about catching their flight on time. 
"This is a peculiar time to shut down the Metro trains. I am not sure if I will be able to make it in time for my flight", he said.
"The Metro replacement bus services will be packed. I'm worried I won't be able to find a place with my luggage."
Best to check schedules
According to Kamper, "some trains will be functional at 05:00 and others at 06:00″, but he couldn't be more specific.
"Passengers can catch the early train or Metro buses to avoid delays," he ventured.
All those travelling to Copenhagen Airport via the Metro between May 18 and 23 are best advised to check the schedules before setting off.
They might find they have to call a taxi, hire a car or a scooter, or get a replacement bus service or train to get to the airport instead.