News
Copenhagen tipped to host War in Ukraine peace summit
---
Media report cites Swedish diplomat as main source. Matter could be discussed at a meeting of the EU's foreign ministers today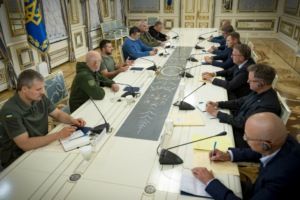 The world's eyes will be on a peace summit to find a way to end the War in Ukraine, if President Volodymyr Zelenskyy gets his way.
And according to a number of sources, Copenhagen is emerging as a strong candidate to host the peace summit.
Zelenskyy referred to the need for such an event during the G7 summit in Japan over the weekend.
Ukrainska Pravda tips Danish capital
Media outlet Ukrainska Pravda reports that the Danish capital is in contention to host the summit.
It cites an unnamed Swedish diplomat, who has tipped Copenhagen to host.
The diplomat claims the matter will be discussed today at a meeting of the EU's foreign ministers.
Support from Foreign Policy Committee chair
Already, Venstre's foreign affairs spokesperson, Michael Aastrup Jensen, the chair of Parliament's Foreign Policy Committee, has urged the government to bid for the right to host.
"I think it is quite clear that it is something that we should offer our assistance to be a host, so we clearly say that if we can be an opportunity, then we would very much like to be a host," he said according to DR.
"So I think we should register ourselves."