Things to do
This Week in Copenhagen: May your senses be distorted
---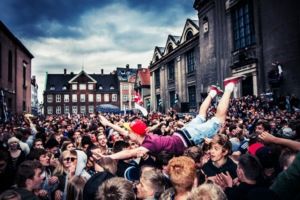 Distortion
May 31-June 4; various locations; prices vary; cphdistortion.dk
Copenhagen's biggest street party and electronic music festival is back. For experienced clubbers, the best options can be found at Distortion Ø on Friday and Saturday in Refshaleøen. 
Flady Festival
May 28, 15:00; Pumpehuset, Studiestræde 52, Cph K; some concerts free adm; Flady Festival
Flady Festival is a new one-day festival in Copenhagen with a focus on Afropop, UK rap, and other new music trends. The festival will take place at Pumpehuset and also Byhaven.
Copenhagen Art Week
June 1-10; various locations and prices; artweek.nu
Art Week is an opportunity to explore the vibrant and diverse art scene. More than 40 exhibition venues, including prestigious art museums, art galleries and artist-run project spaces, take part. Expectt exhibitions, performances, concerts, debates, industry activities, art tours and meetings with the artists themselves. 
Dame Dearest x Emma Sehested Høeg
May 27, 19:00; VEGA, Enghavevej 40, Cph V; 310kr; Dame Dearest x Emma Sehested Høeg
The evening will feature a party on stage with well-known and new songs, with guest performances from friends and acquaintances.
Rooftop Music: Sebastian & Claudio
May 20, 19:15-22:00; Amagerfælledvej 108, Cph S; free adm; Rooftop Music
Spring has sprung and there's no better way to enjoy it than at this cosy indoor space on a rooftop! Get comfy on couches, grab a drink, and enjoy live music by Sebastian & Claudio.
The Mission
May 24, 19:00-22:00; VEGA, Enghavevej 40, Cph V; 275kr; The Mission
The Mission are on tour with songs from their impressive back catalogue. The band are widely considered one of the frontrunners in new wave and post-punk.
1420 Free English Comedy Open Mic
May 23, 19:00-21:00; Griffenfeldsgade 20, Cph N; free adm; meetup.com
This part is an open mic series where comedians can try out new material. A night of jokes, laughs and craft beer.
Beginner Friendly One-Shot Adventure
May 26, 17 :00-21 :00 ; Bastard Café, Rådhusstræde 13, Cph K; free adm ; meetup.com
An adventure unfolds over the course of a single evening. In this roleplaying game participants can play a forlorn scholar or an intrepid rat catcher, explore the twists and turns of the fantasy world created by the game master, and shape the story alongside other players.
Gladys Knight
May 31; 21:00-23:00; Operaen, Holmen, Cph K; 455-2050kr; Glady's Night
Indulge in R&B tunes from the famous American singer-songwriter Gladys Knight. Don't miss 'The Empress of Soul' sing 'Midnight Train to Georgia'. 
Knit with Para Moda 
May 25 17:00- 18:30 pm; SPACE10, 10 Flæsketorvet, Cph V ; free adm; Knit with Para Moda; 
Knitting takes center stage at this workshop. Be creative while learning and sharing knitting hacks and tricks with others. Meet Benedicte Holmboe, the founder of the knitting kit company Para Moda, who will share his experience and teach both amateurs and experts the professional way of knitting and to expand on it.