News
Copenhagen Pride to be world's first green vehicle LGBTI+ parade  
---
According to DFDS, on average, an electric truck can save 52.3 tonnes of CO2 emissions a year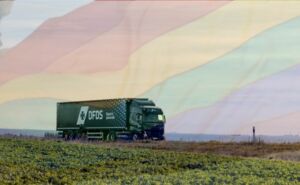 Copenhagen Pride will this August organise the first LGBTI+ parade in the world to only use electric vehicles.
Attendance is "maxed out with a focus of quality over quantity", Lars Henriksen, the political chairperson of Copenhagen Pride, told CPH POST. 
Scheduled to take place on August 19, the parade will start at Frederiksberg Rådhus and continue on to Rådhuspladsen.
More sustainable and green
Many of the participants in Copenhagen Pride will use electric floats provided by the international logistics company DFDS Group and automaker Volvo Trucks.
The commitment to using electric vehicles is fulfilling a three-year goal agreed last autumn to make the festival more environmentally-friendly.
"This is one step in that direction. Using 100 percent electric vehicles makes the parade more sustainable and green," said Henriksen, who underlined the need for the parade to make the transition.
"The climate crisis is absolutely an LGBTI+ crisis and, worldwide, our communities are often affected more severely than others. It is our responsibility to lead in this area."
Important milestone
DFDS has a fleet of 125 electric trucks, which is the largest e-truck fleet in the Nordic region, and it will offer 30 electric trucks to the parade's participants. According to DFDS, an electric truck saves an average 52.3 tonnes of CO2 emissions a year.
Meanwhile, the trucks in the Pride Parade's electric fleet are manufactured by Volvo Trucks, which has reduced the emission of air pollutants from their trucks by up to 90 percent. For the parade, they will be equipped with sound systems, toilets and DJs powered by the truck battery – all with zero emissions.
According to Niklas Andersson, the executive vice president of DFDS Logistics, DFDS is a strong supporter of LGBTI+ rights and a long-term partner of Copenhagen Pride.
"We are proud to enable this important milestone that combines sustainability with our support for inclusion and equality," he said.